This article originally appeared in The Times of India
The year 2023 has witnessed significant upheavals in the Himalayas. The Glacial Lake Outburst Flood (GLOF) in Sikkim that swept away humans, houses, bridges and a dam was the latest in a series of unsettling reports throughout the year. First came the sinking of Joshimath but it was soon overshadowed by devastating losses in Uttarakhand and Himachal Pradesh during the monsoon season; unprecedented rainfall and widespread landslides caused significant loss of life and property, particularly in Himachal.
But these are only the first days of climate change. As global warming accelerates, we will see an increase in the frequency and intensity of extreme weather events. In the Himalayas, this will translate to cloudbursts and accelerated glacial melt. These will lead to more landslides and avalanches, while glacial lakes will grow in both size and number.
Paired with the region's elevated seismic risk, we see a perfect storm brewing in the Himalayas. The failure to consider this interplay of geological, hydrological, and meteorological hazards in the scramble to construct hydropower projects resulted in the tragedy in Sikkim.
As the complete picture of how this tragedy unfolded emerges, we know the following:
● Around midnight of October 3-4, the South Lhonak Lake's embankment broke, creating a GLOF. This lake has tripled in size in the last three decades due to rapid melting of Lhonak glaciers, in turn due to global warming.
● An earthquake of 6.2 magnitude occurred in western Nepal at 14:51 hrs on October 3, which was felt even in Delhi. Scientists are investigating whether this earthquake could have led to a landslide/avalanche or weakened the lake's embankment, starting a GLOF.
● Sikkim also received high rainfall from October 2 through to October 5. As per ICIMOD, on the night of October 3, there was heavy rainfall near the lake. This, too, could have caused the GLOF.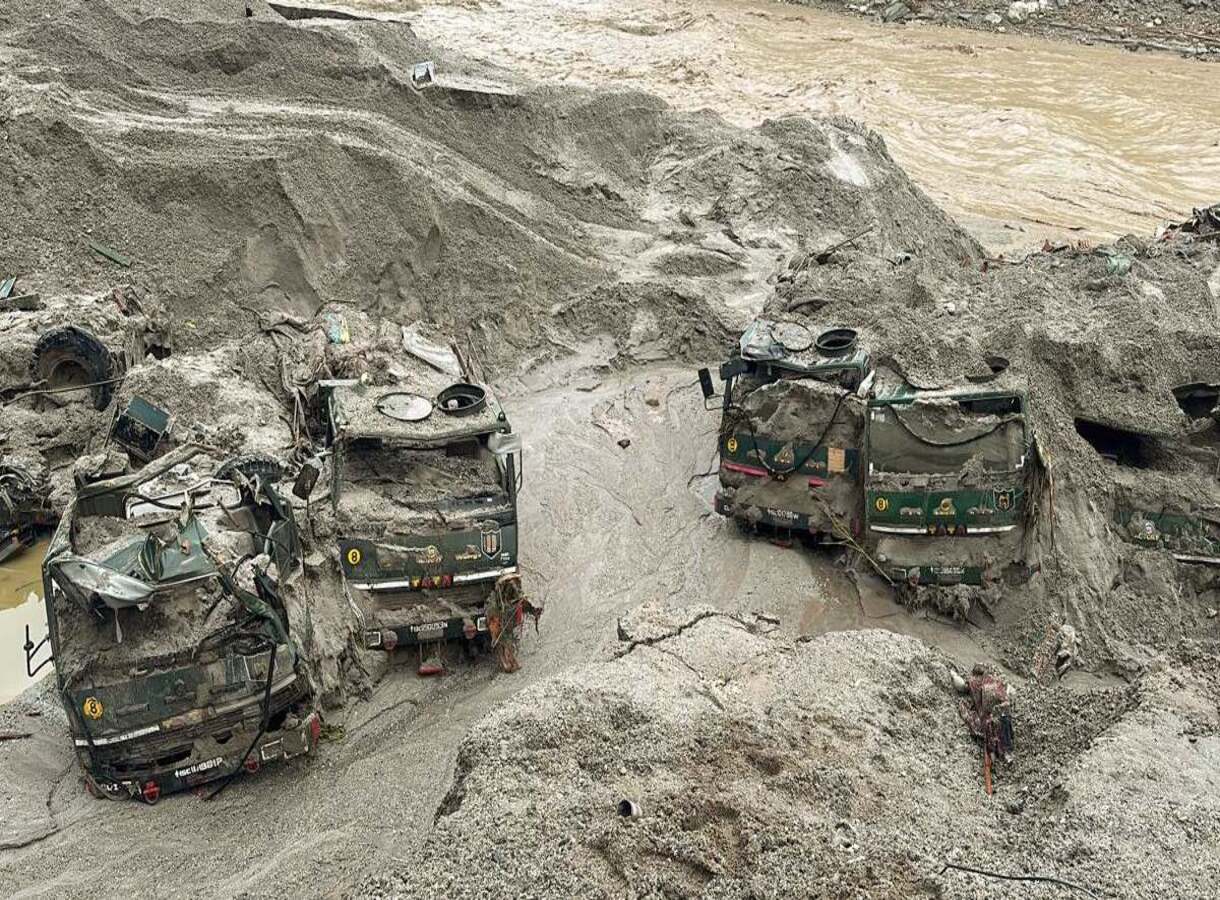 About 50km downstream of South Lhonak Lake is the Teesta III dam at Chungthang. This massive rock-filled dam is Sikkim's biggest hydel project. According to Teesta III chairman, on October 3, at 23:58 hrs, operators were informed by Indo-Tibetan Border Police about the GLOF. By 00:10 hours on October 4, a swell of water flooded the dam's reservoir lake and washed away most of the dam before they could open the sluice gates.
● The dam's spillway was not designed to accommodate high flow due to GLOF, and there was no functional early warning system for GLOF at South Lhonak Lake.
● The dam break led to massive flooding downstream, destroying roads, bridges, water and power lines, inundating towns and districts. Around 50 have died, and scores are missing. The economic losses will be thousands of crores. The destroyed dam itself cost about ₹14,000 crore. This dam was also hit by the 2011 earthquake, which destroyed a large part of the construction and claimed the lives of 40 workers.
● Wenow know that none of the early warning sensors installed for the critical glacial lakes in Sikkim in 2013, 2016 and even last month survived long enough to forewarn residents downstream.
● This, even though GLOF was identified as a significant risk to Teesta III. Back in 2005, the carrying capacity study of Teesta basin – based on which the environment ministry cleared Teesta III – had noted that the region was "quite susceptible to disastrous hazards due to Glacial Lake Outburst Floods".
Multiple hazards thus were recognised for Teesta III, but risks were neither adequately assessed nor a mitigation strategy designed. This is how this highrisk project received clearance from multiple regulating agencies despite opposition from the local community and environmental groups. At the time, even clearance conditions did not mandate an early warning system or modifications in the dam's design, to account for the possibility of a GLOF.
This problem is not unique to Teesta III. Big infrastructure projects in the Himalayas are neither vetted through a stringent risk assessment process nor designed to mitigate multiple risks and eventualities. As climate change continues, extreme events will become ever more common. The only way to prepare for these is by factoring in all risks at the project design stage and creating institutions that can make independent decisions based on risk assessments.
In this context, we must urgently re-evaluate the Environmental Impact Assessment and the Environment Clearance procedures. The existing EIA/EC framework has repeatedly shown inadequacies in handling high-risk projects. EIA reports often overlook comprehensive risk evaluations, and impacts of climate change are rarely factored in. Moreover, impact assessments are absent of advanced methodologies and technologies.
The existing EC approach must be equipped to address the challenges and unpredictability of the climate crisis, especially in the Himalayas. Additionally, for objectivity in the decision-making process, it is equally essential to establish independent bodies to conduct such assessments to inform decisions. For the Himalayas, we need a Trans-Himalayan Environmental Assessment and ManagementAgency staffed with experts from Himalayan states and UTs.
In the Himalayas 87 hydroelectric projects are operational, 30 are under construction with more on the horizon. The task is twofold: ensure these mega projects don't exacerbate environmental problems, and then, safeguard valuable assets against multiple threats. This is the challenge that demands balance.
Chandra Bhushan is one of India's foremost public policy experts and the founder-CEO of International Forum for Environment, Sustainability & Technology (iFOREST).