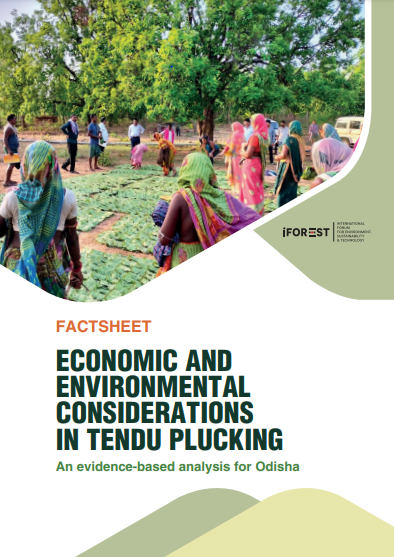 Economic & environmental considerations in tendu plucking - An Evidence-based analysis for Odisha
There is preliminary but strong evidence that there is a significant environmental impact of tendu leaf collection practice. We have also found through survey in 381 tendu-collecting households in Angul district, Odisha, that while tendu is a good source of supplementary income for the dependent communities, it has not helped address the underlying poverty among forest communities. The Odisha factsheet disseminates iFOREST'S findings from a larger study on the economic and environmental implications of tendu collection practices in India, which specifically focuses on the states of Odisha, Maharashtra and Chhattisgarh.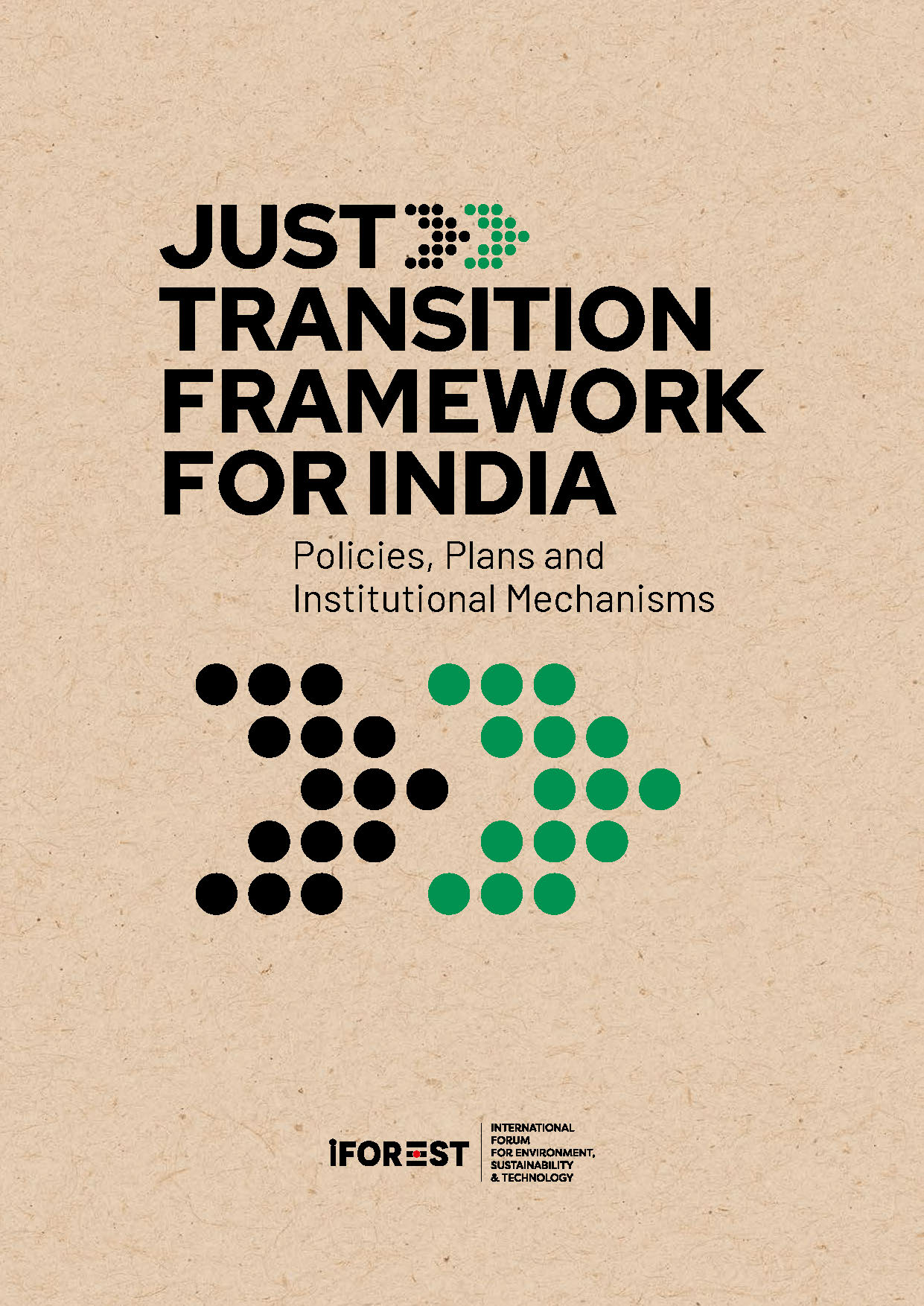 Just Transition Framework for India: Policies, Plans and Institutional Mechanisms
For India to meet its net zero target by 2070 and energy independence goal by 2047, a framework of just transition at the national and state levels is essential. The framework(s) will guide strategic pathways and implementation mechanisms to achieve net-positive environmental, social and economic outcomes in a timebound manner and through the cooperation of all stakeholders.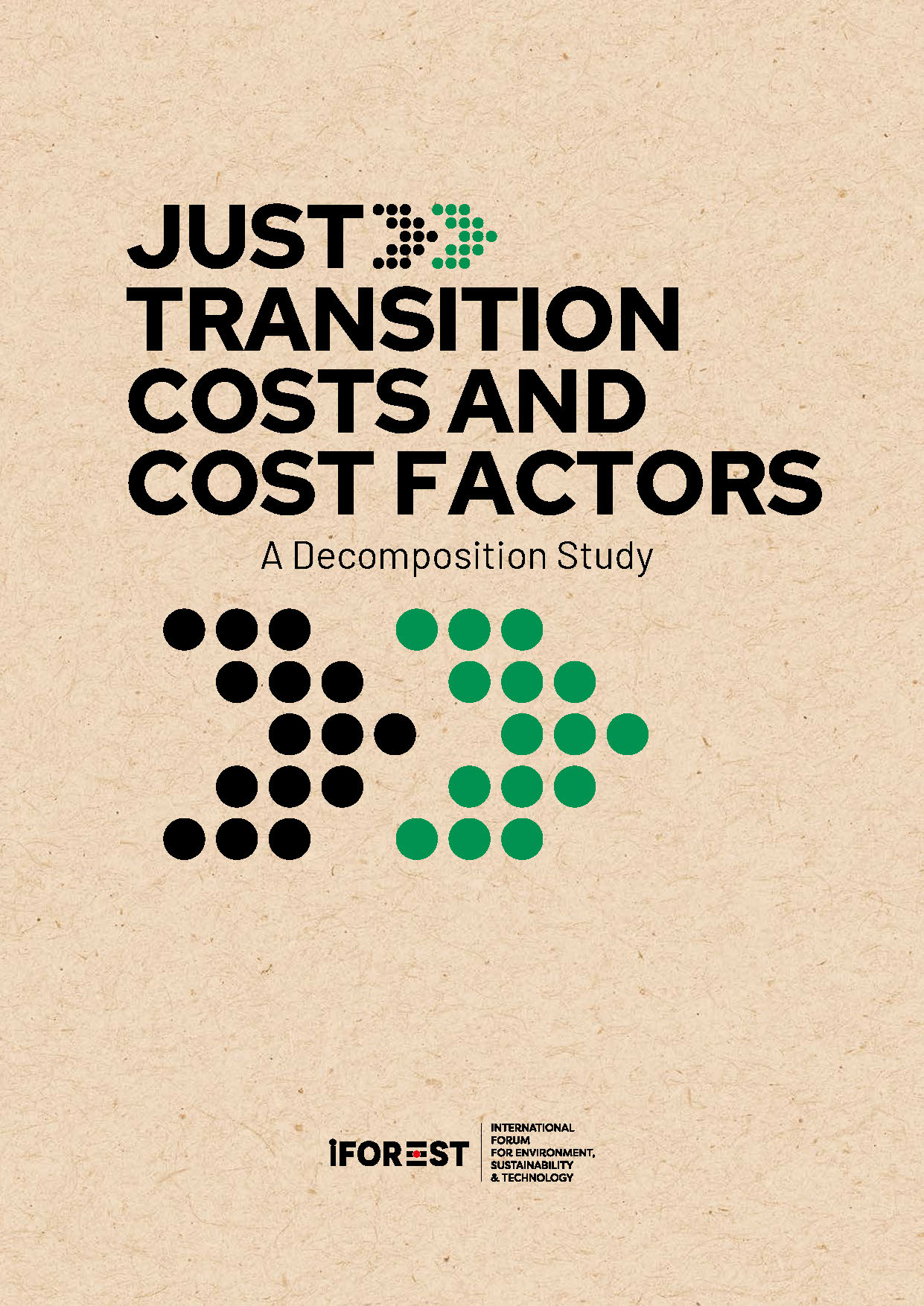 Just Transition Costs and Cost Factors: A Decomposition Study
A Just Transition from coal dependence encompasses technological transition with social, economic, and institutional transformation. This study attempts to identify cost factors for each component based on a suitable denominator – the capacity of decommissioned thermal power plant (TPP), reduced coal production, affected worker or affected population.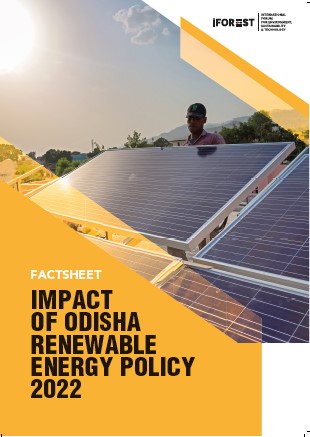 Impact of Odisha Renewable Energy Policy 2022
Odisha Renewable Energy Policy (OREP), 2022 identifies the need to add 21,700 MW of new RE capacity by 2029-30 to meet the state's new renewable purchase obligation (RPO) requirement. Of this, about 16,000 MW is required by industries for captive use and 5,700 MW by the utility. Currently, Odisha largely relies on RE imports from other states to meet its RPO requirements, missing out on the investment opportunity within the state. iFOREST research highlights the environmental and economic benefits associated with the implementation of the new policy.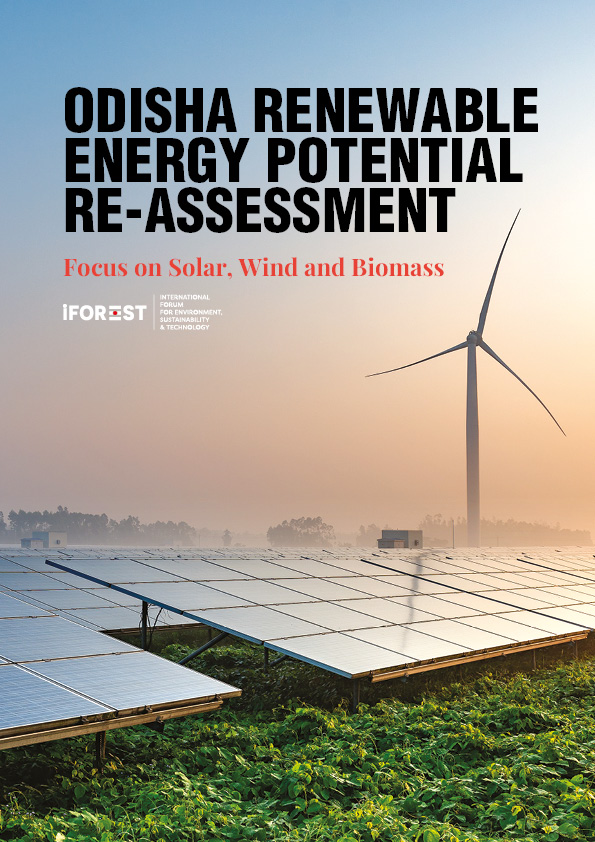 Odisha Renewable Energy Potential Re-assessment: Focus on Solar, Wind and Biomass
There is an urgent need to revisit the assessed RE generation potential of Odisha, as the recently launched Odisha Renewable Energy Policy, 2022 looks to promote more and more RE installations within the state to meet the new renewable purchase obligation (RPO) requirements. The assessed generation potential of a state impacts the mindset of both policymakers and investors in approaching intra-state expansion. Clarity on actual potential can help support policy moves and investment decisions that expand the share of RE in the state. The report reassesses the solar, wind and biomass potential of the state using new data and assumptions.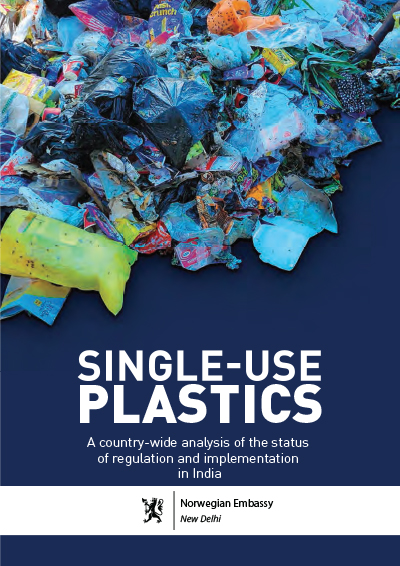 The report evaluates the status of regulations on SUPs and their implementation across the 36 states and UTs of India between 2016 to 2019 to understand gaps and challenges in their design and implementation. It is important to note that these analyses were conducted, well before the current SUP ban was announced. Thus, while some of the lessons in the report may be used to design any future plastic legislation, it is not a commentary on the SUP ban of 1 July 2022.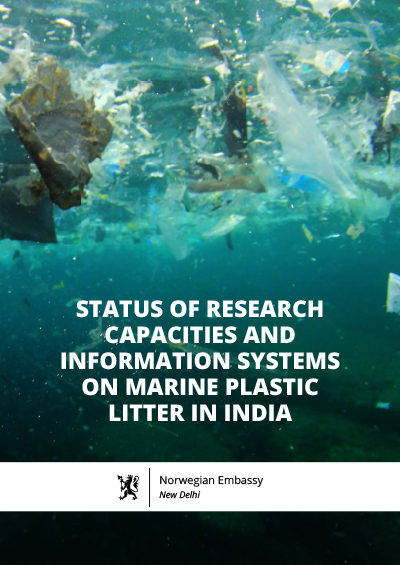 Status of research capacities and information systems on marine plastic litter in India
The report presents the status of data and research, and the capacities of research institutions on marine plastic litter in India. The literature review was carried out to assess the availability of data on marine litter in four different fates, as recognised under the SDG Target 14.1: on beaches or shorelines (beach litter), floating on the water or in the water column, on the seafloor/seabed, and ingested by biota (e.g., sea birds). Research institutions were surveyed and studied to understand their geographical presence, focus research areas and engagement, and their capacity to conduct research on marine litter.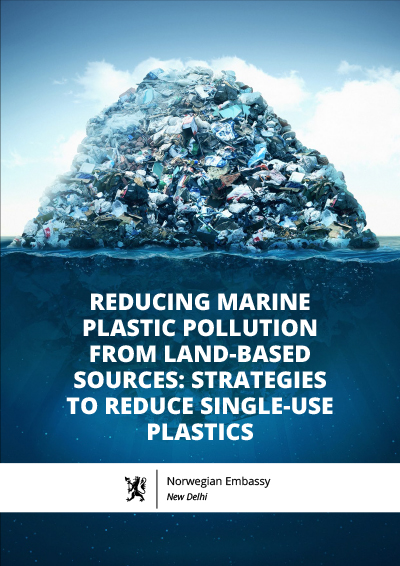 Reducing Marine Plastic Pollution from Land-Based Sources: Strategies to Reduce Single-use Plastic
This policy brief on reducing marine plastic pollution from land-based sources, focuses on the current state of knowledge and institutional capacity on marine plastic litter and the strategies to reduce marine litter by developing a comprehensive approach to reduce the demand and usage of SUPs. This is the first step to develop an integrated approach to reduce marine plastic litter.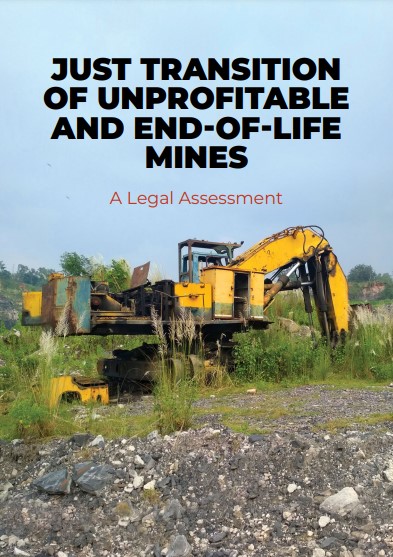 Just Transition of Unprofitable and End-of-Life Mines: A Legal Assessment
The report offers an in-depth evaluation of laws and regulations pertaining to environmental, land and labour aspects of the coal sector, which have salience for a just transition. It also looks into the challenges and limitations of the existing laws and regulatory mechanisms and outlines necessary reforms to support an environmentally and socially responsible transition, which is also timebound.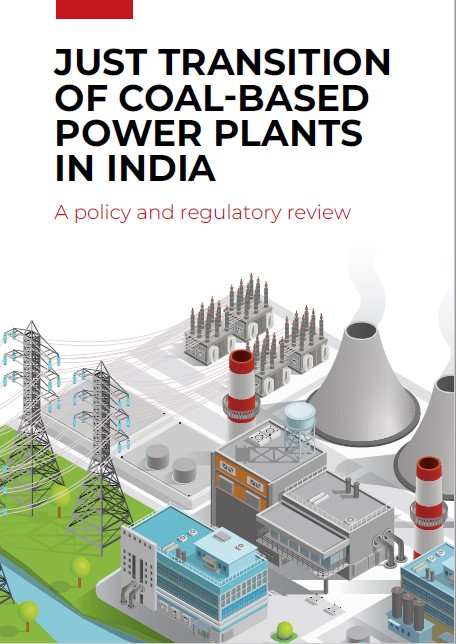 Just transition of coal-based power plants in India: A policy and regulatory review
India's coal fleet is fast ageing. About one-fifth of the current capacity is primed for decommissioning as their average age is more than 35 years. If the Ministry of Power's advisory to retire coal-based generation units of more than 25 years old is implemented, then as much as 50-60 GW capacity will retire in the coming ten years. But is India prepared to decommission such large capacities under a just transition framework, ensuring fair and inclusive outcomes for the environment, labour and community?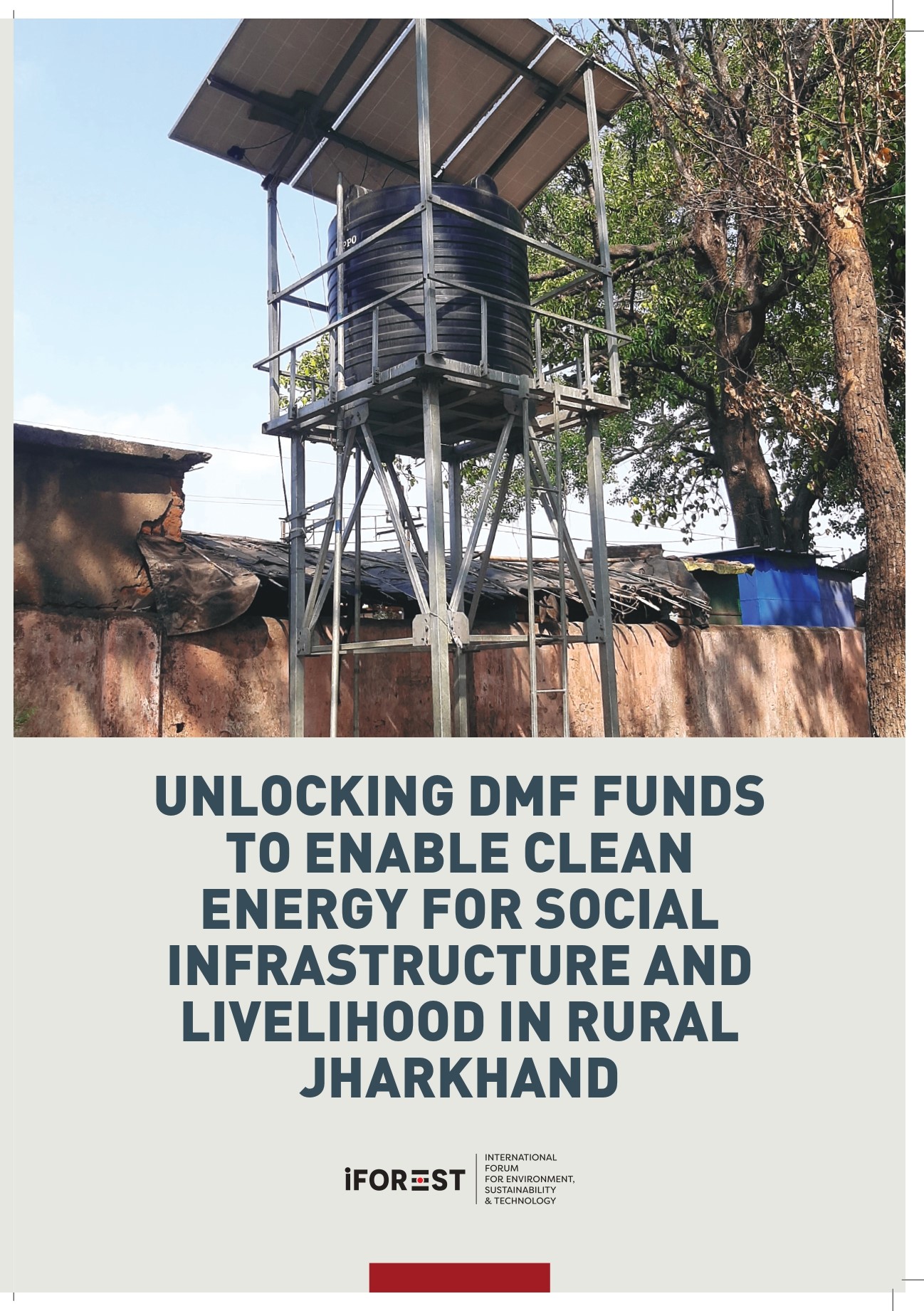 Unlocking DMF funds for supporting DRE in Jharkhand
The report emphasizes solutions and implementation models, based on comprehensive research across five mining districts (i.e Chatra, Dhanbad, Hazaribagh, Ramgarh, West Singhbhum) of Jharkhand to establish DRE integration as an essential focus area under various priority spending areas of the District Mineral Foundation (DMF), including health, nutrition, education, and livelihood.  DRE applications have already been playing a pivotal role in bridging the energy access gap in Jharkhand, and DMF can play an essential role in expanding its reach, effectiveness, adoption, and maintenance.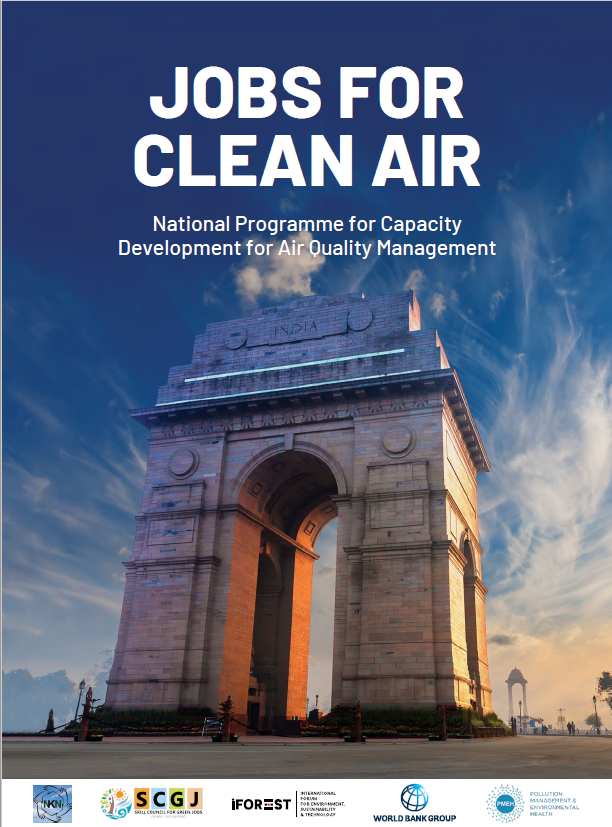 The report is the first to map India's Air Quality Management (AQM) sector and the various direct and indirect jobs within it. It recommends a capacity building road map for the next five years to meet the goals of the National Clean Air Programme (NCAP)
Angul: Planning a Just Energy Transition and a New Green Economy
The study on just transition for Angul was undertaken to evaluate how Odisha's largest coal mining and industrial district can strategically plan for a just energy transition and simultaneously build a green economy
in the coming decades.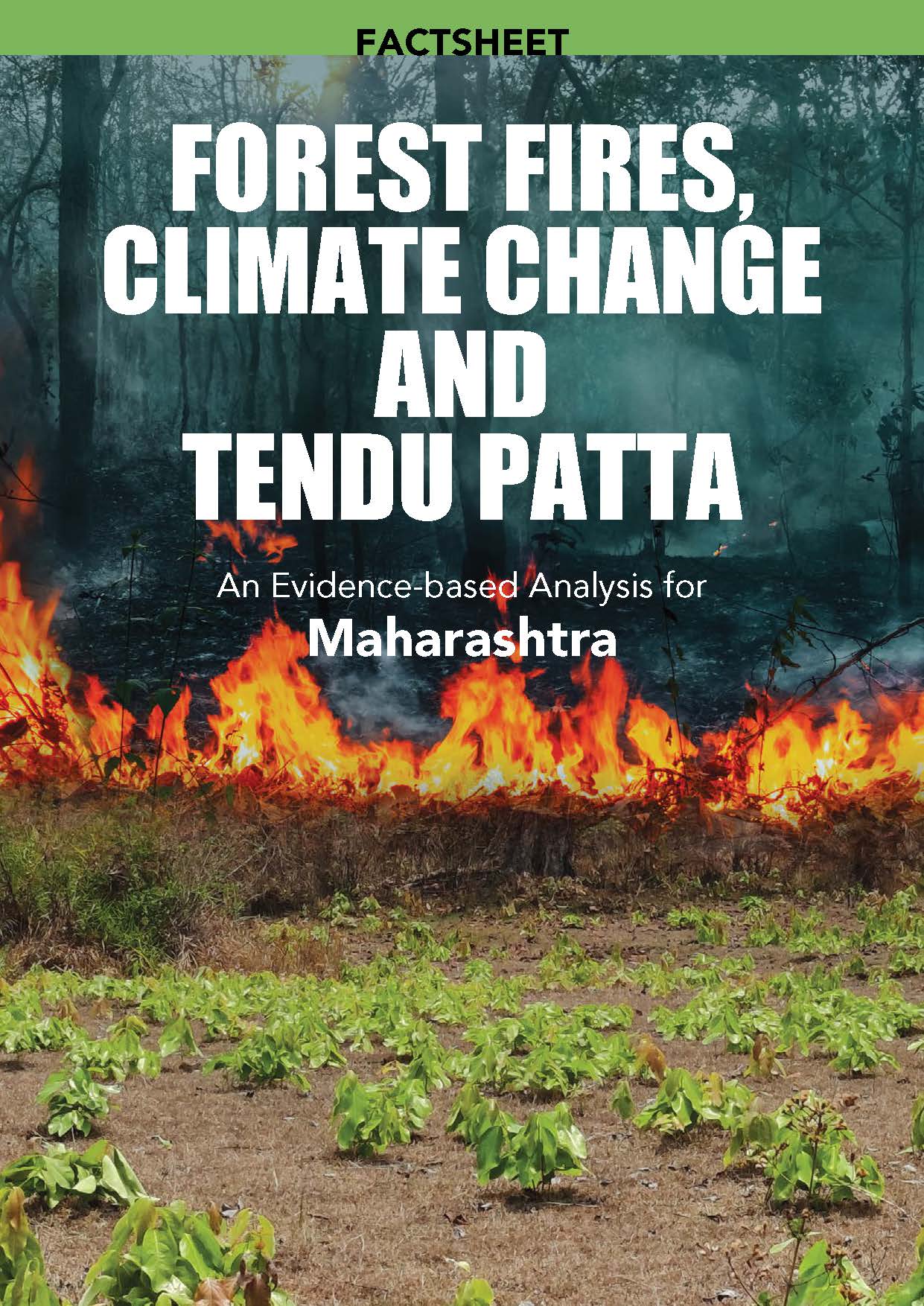 Forest Fires, Climate Change and Tendu Patta - An Evidence-based Analysis for Maharashtra
The study of Maharashtra was undertaken as part of a research project that aims at, among other things, establishing the linkages between tendu patta collection practices and forest fires. Further, it aims at understanding the impact of these fires in terms of the area burnt and the emissions.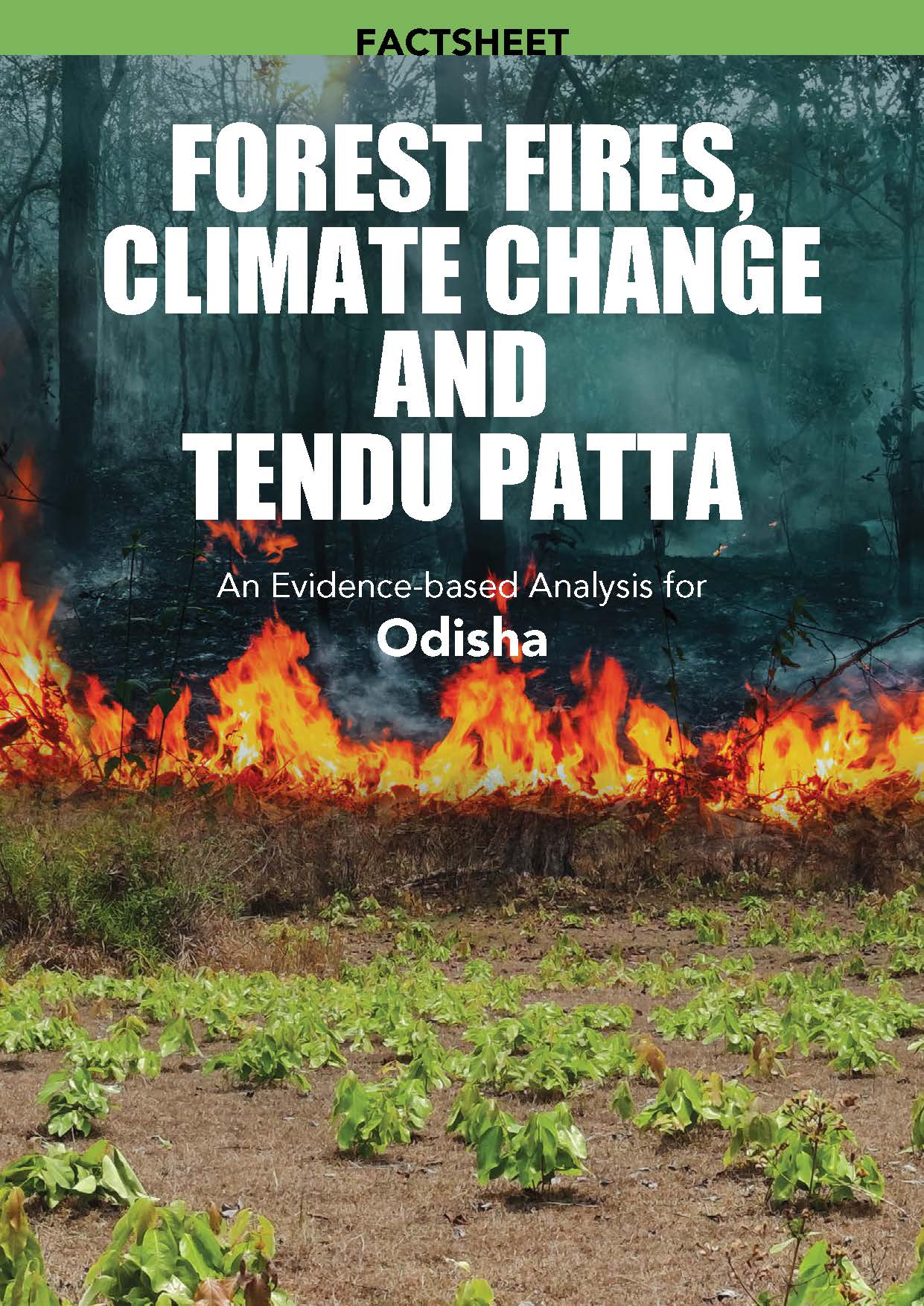 Forest Fires, Climate Change and Tendu Patta - An Evidence-based Analysis for Odisha
The study of Odisha was undertaken as part of a research project that aims at, among other things, establishing the linkages between tendu patta collection practices and forest fires. Further, it aims at understanding the impact of these fires in terms of the area burnt and the emissions.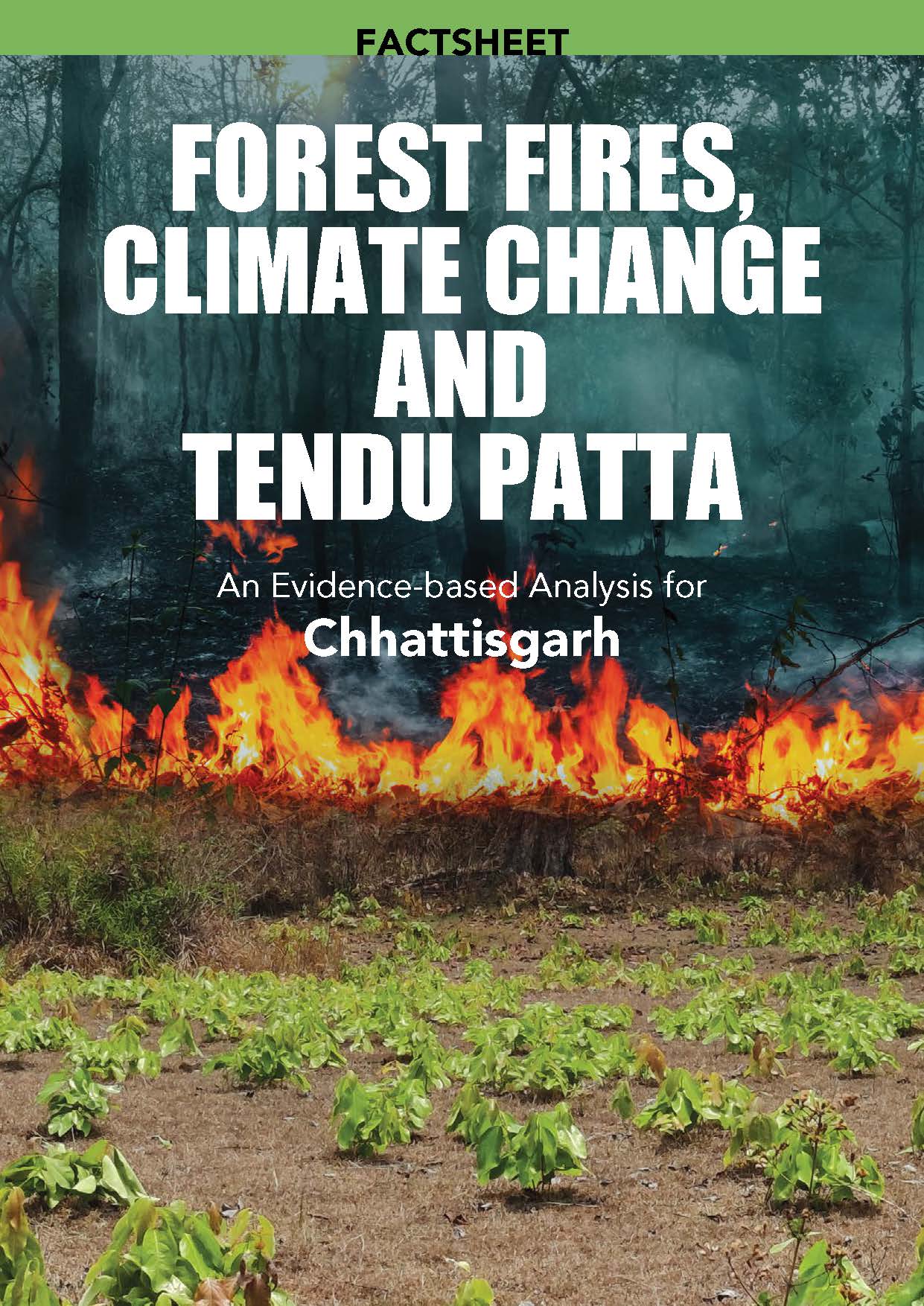 Forest Fires, Climate Change and Tendu Patta - An Evidence-based Analysis for Chhattisgarh
The study of Chhattisgarh was undertaken as part of a research project that aims at, among other things, establishing the linkages between tendu patta collection practices and forest fires. Further, it aims at understanding the impact of these fires in terms of the area burnt and the emissions.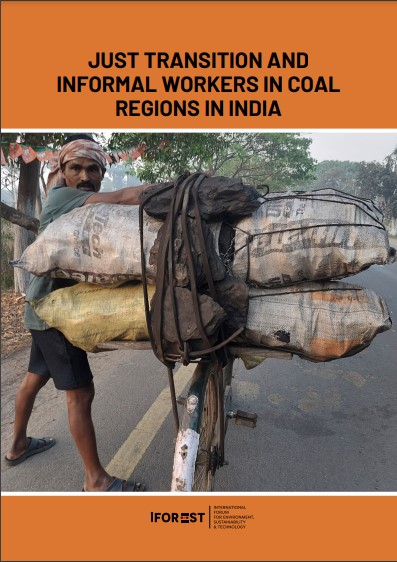 Just Transition and informal coal workers in coal regions in India
There is a high proportion of informal workers in India's coal states and districts who are directly dependent
on coal for an income. These workers are engaged in a variety of activities related to coal mining, coal transportation, and in the coal washeries. Besides, a large proportion of people earn a living by gathering and selling coal. These workers collectively constitute the informal coal economy.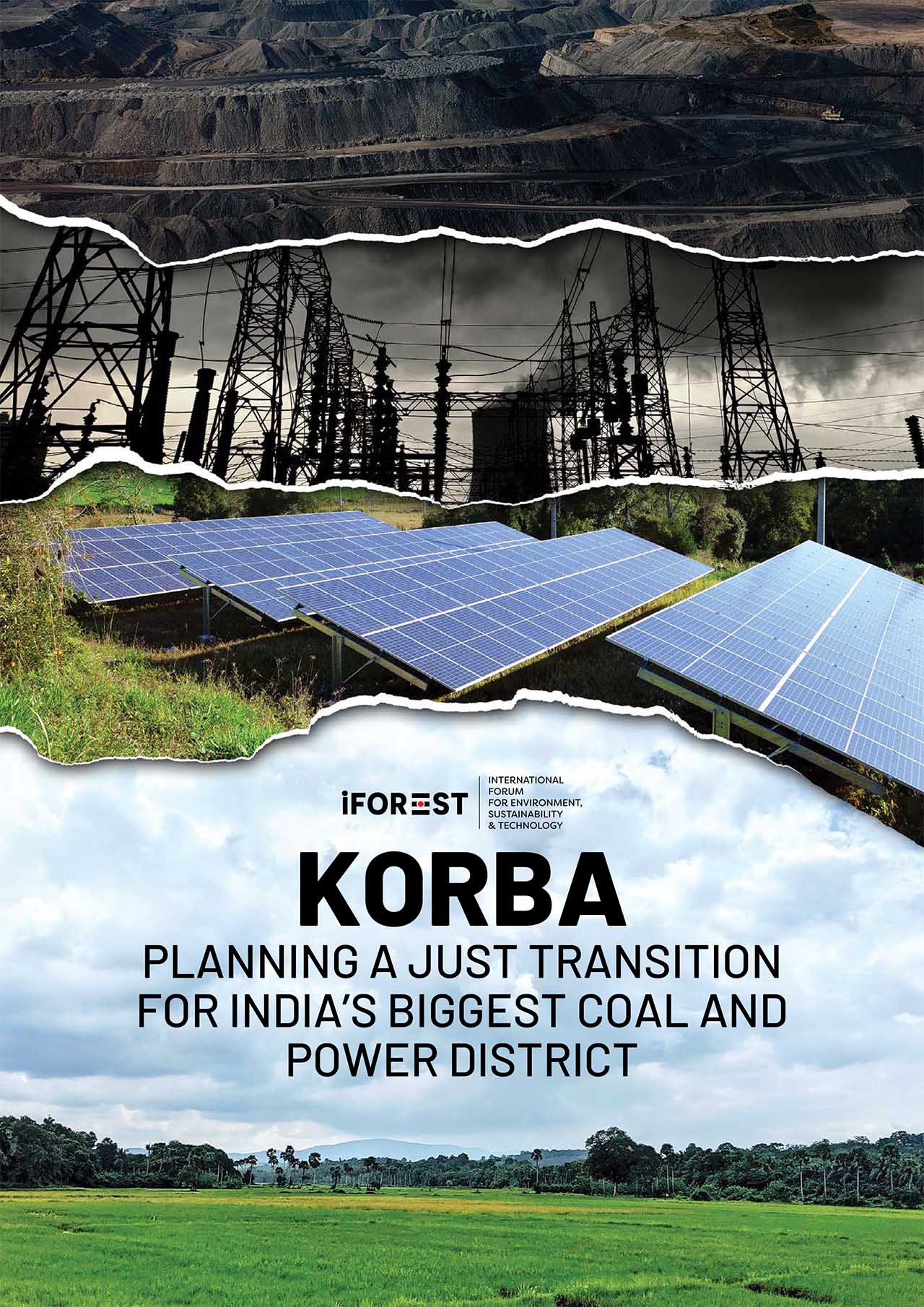 Korba: Planning a Just Transition for India's Biggest Coal and Power District
The study of the Korba district of Chhattisgarh was undertaken to understand what a just transition will mean and entail for India's top coal mining and coal-based power districts, and how a just transition planning can be approached.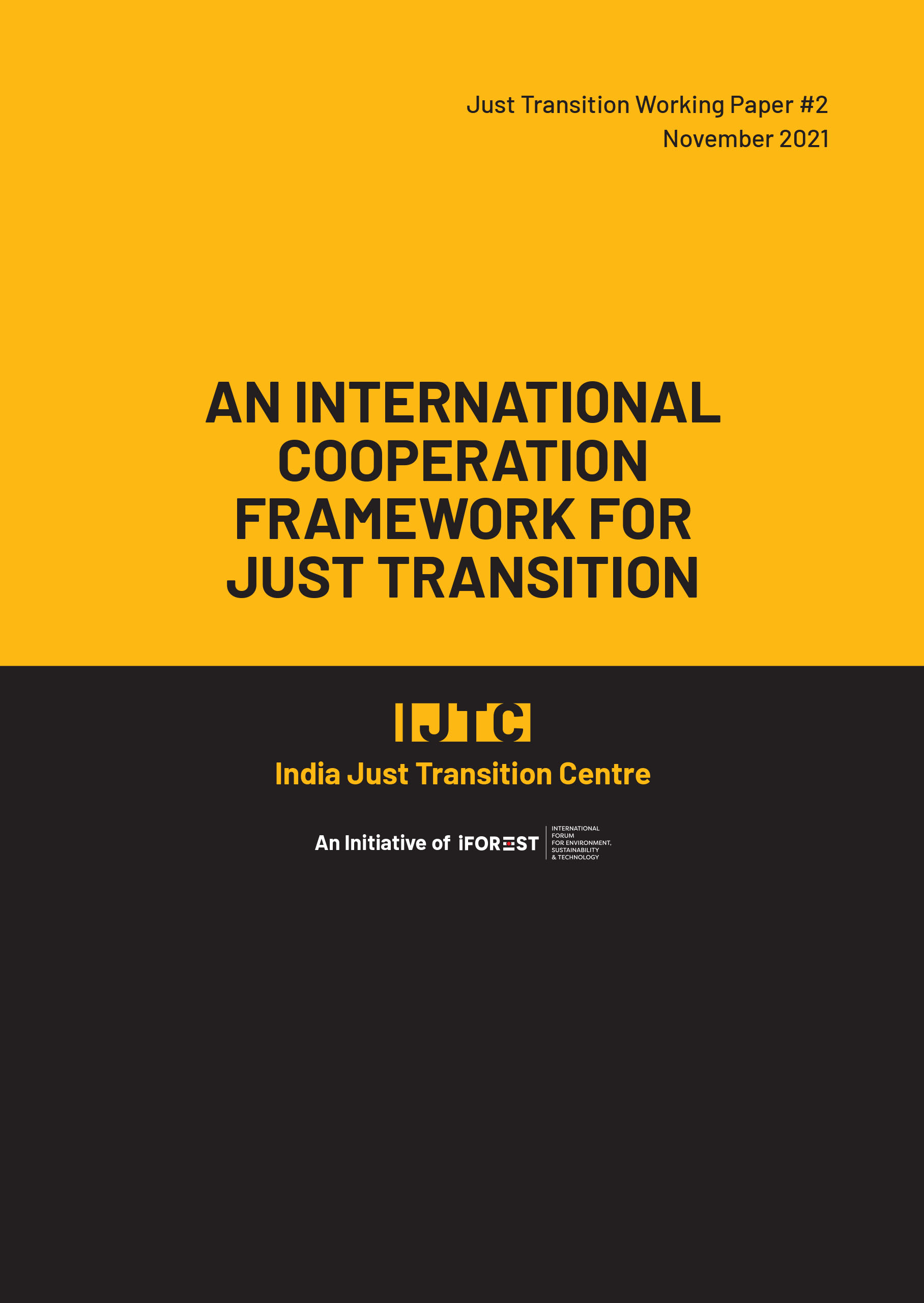 An International Cooperation Framework for Just Transition
Developing countries require massive financial and technical support to ensure just and equitable phase out of coal under accelerated timelines, aligned with achieving decarbonization goals. The requirement of strengthened support has been brought up on several occasions at the ongoing COP26.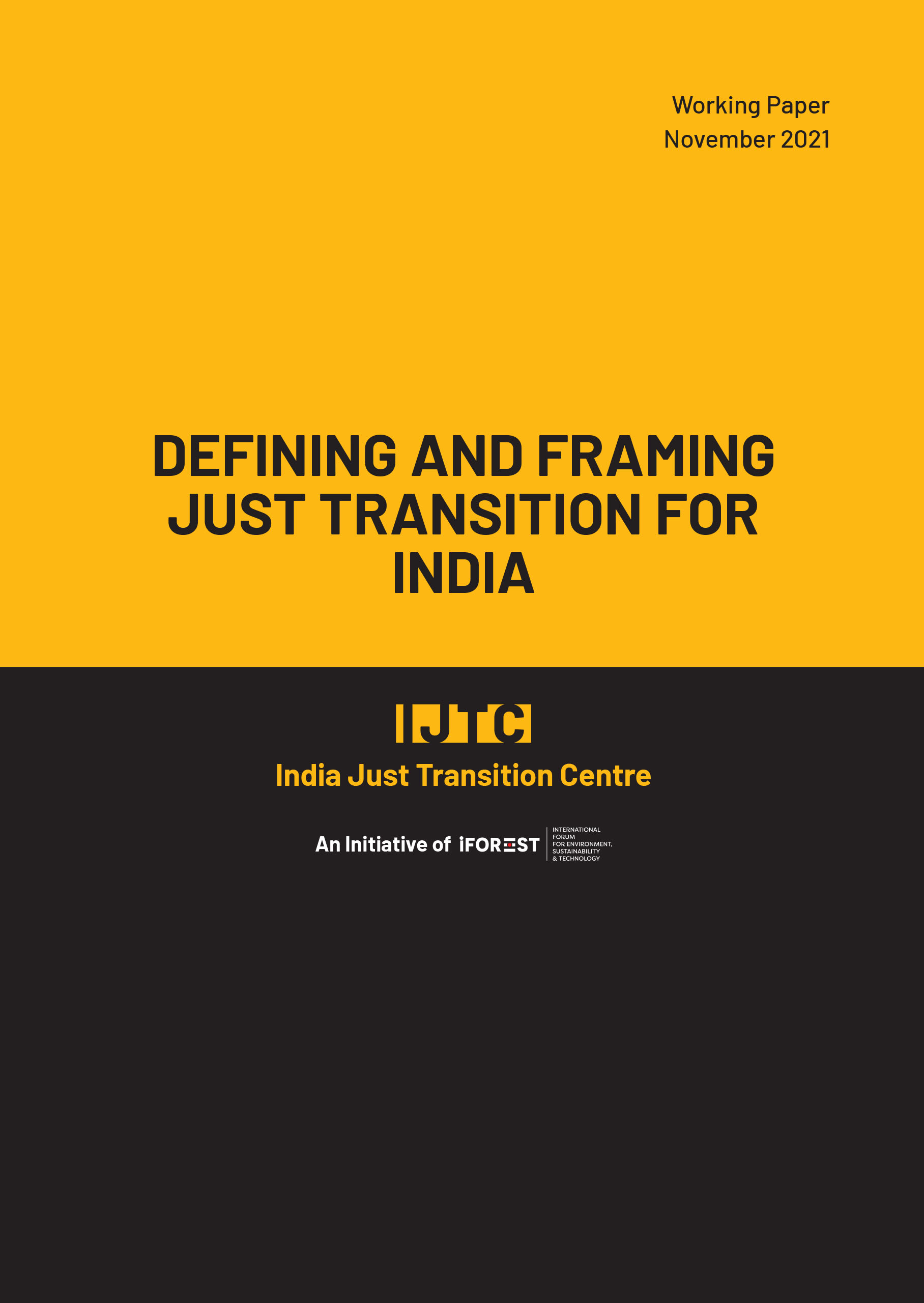 Defining and Framing Just Transition for India
A precise definition and an appropriate framing of just transition in the context of India's fossil fuel regions and economy is essential to build policy momentum and public engagement on the issue. This is also important for formulation of relevant policies and just transition plans that are guided by the principles of social and environmental justice, and are designed to achieve net positive social, economic and environmental outcomes.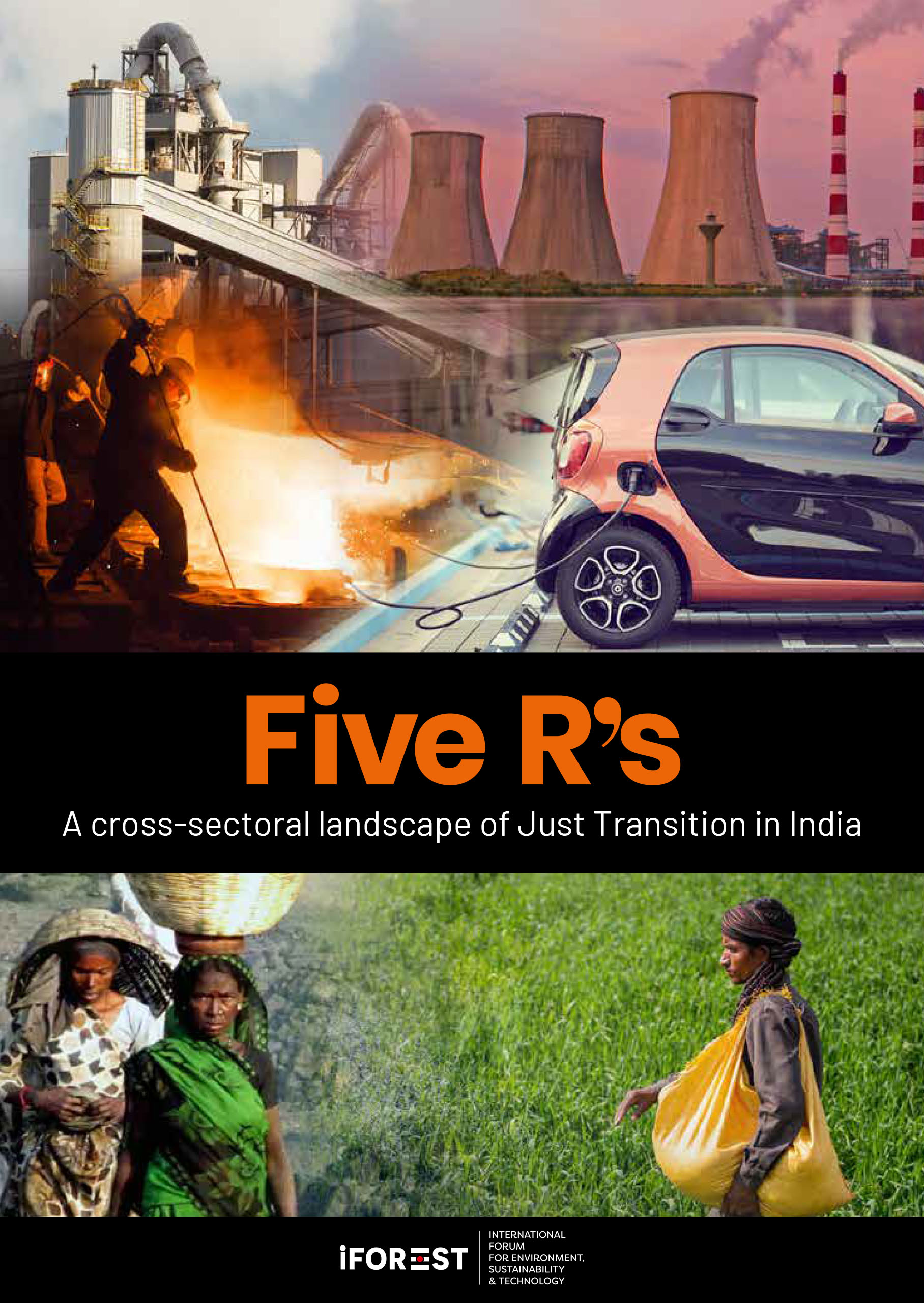 Five R's - A cross-sectoral landscape of Just Transition in India
India's trajectory for energy transition will determine the policy and planning approach for the just transition. Two recent modelling studies on net-zero emissions pathways for India provide a glimpse of possible trajectories to reduce fossil fuels over the next three to four decades.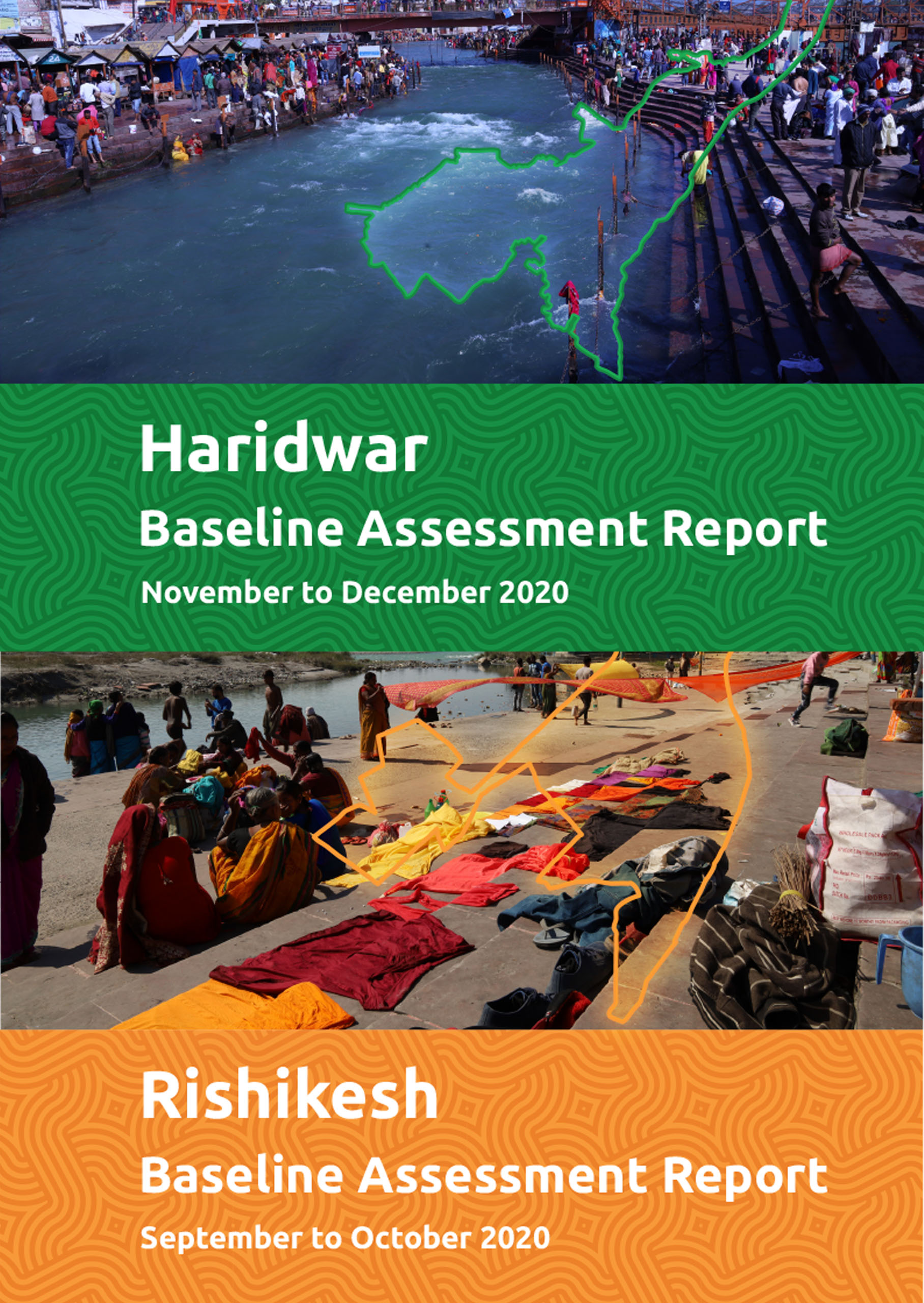 Baseline Assessment Study of Solid and Plastic Waste in Haridwar and Rishikesh
Within project Aviral – Reducing Plastic Waste in the Ganga, plastic waste entering the cities environments is reduced by strengthening an integrative and improved plastic waste management system in the two Ganga cities Haridwar and Rishikesh. The efforts also contribute to achieving the objectives of the flagship programs of the National Mission for Clean Ganga (Namami Gange) and the Clean India Mission (Swachh Bharat Mission). In order to sustainably enhance existing capacities, improve selected elements of the plastic waste value chain, promote innovations and implement awareness activities.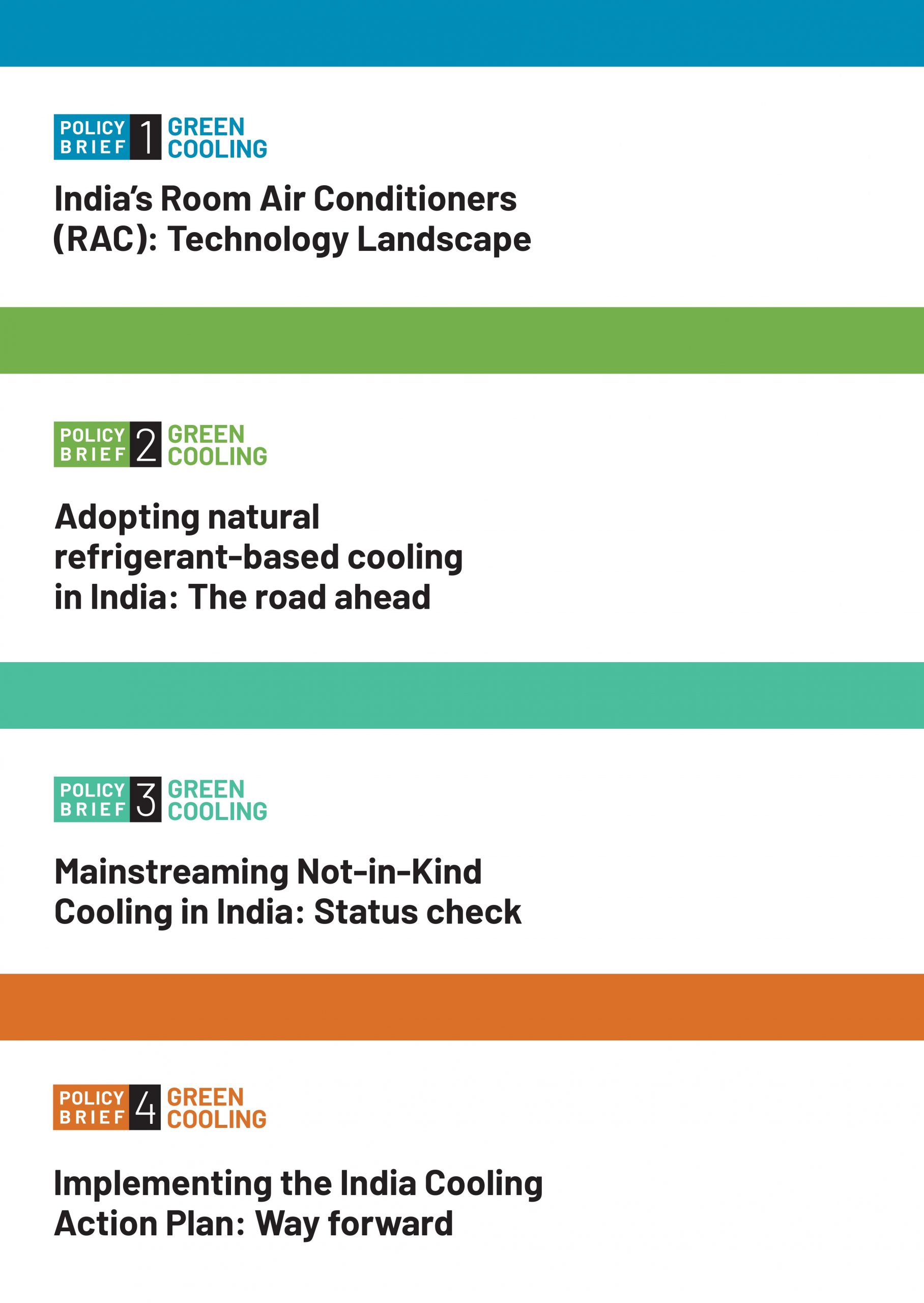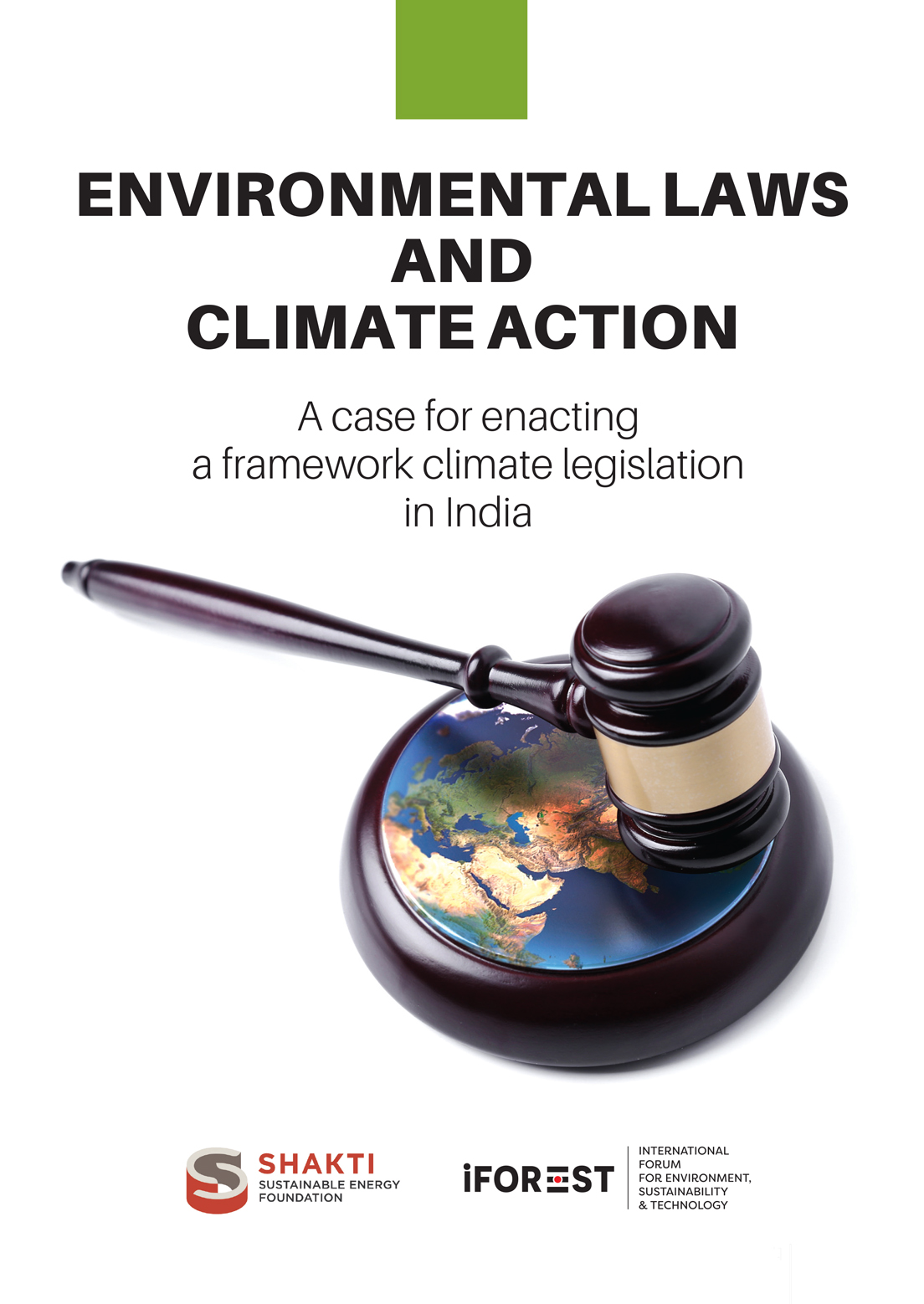 Environmental Laws and Climate Action: A case for enacting a framework climate legislation in India
There is a growing debate on enacting a 'framework climate legislation' to enhance climate change mitigation and adaptation action. International treaties, such as the Paris Agreement, do not have an enforcement mechanism as those found in national laws; the absence of which can undermine climate action. Through a detailed review of India's environmental laws, climate litigations and framework legislations in various countries, this report explores whether India needs a framework climate legislation, and the scope and contours of it.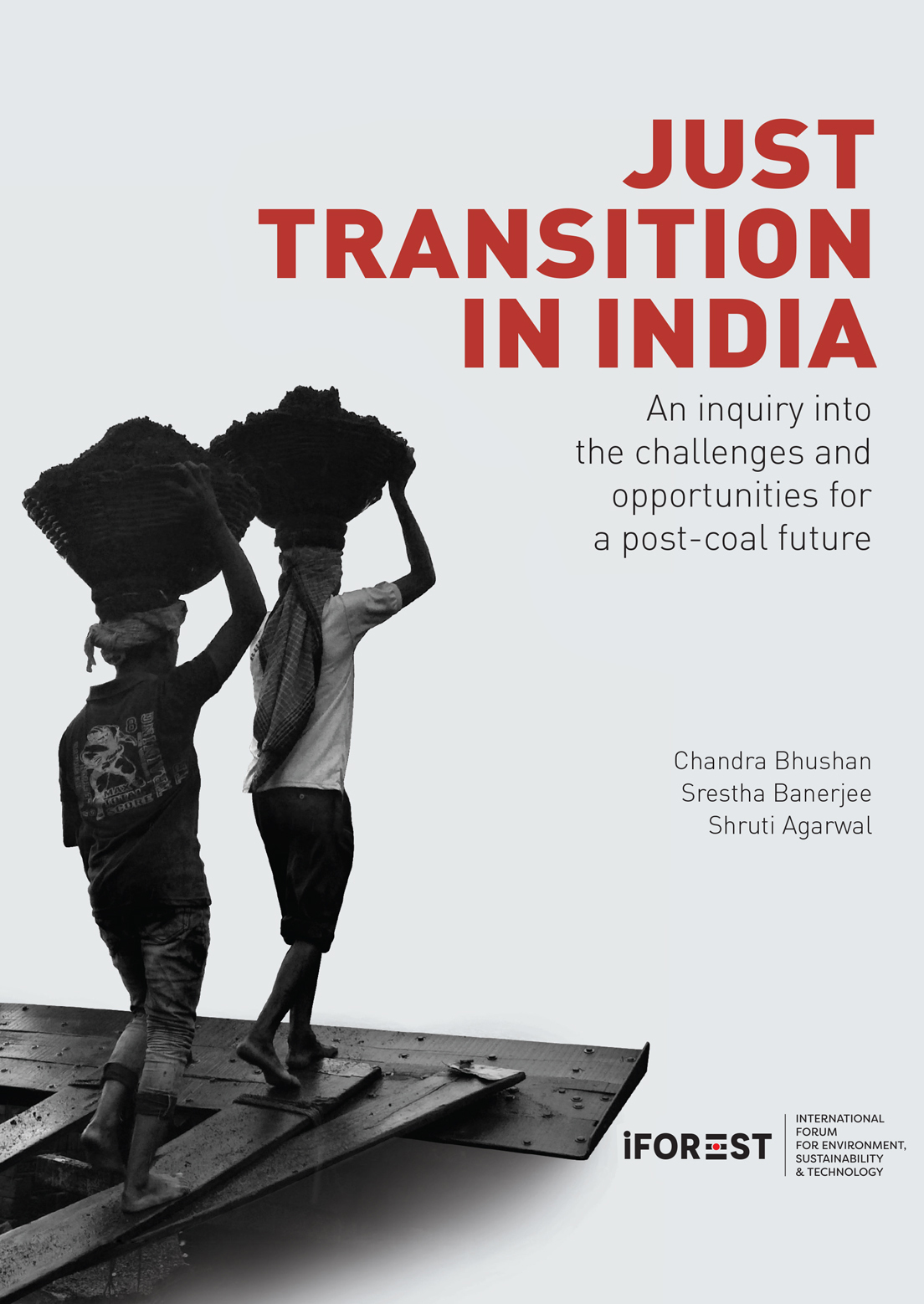 Just Transition in India: An inquiry into the challenges and opportunities of a post-coal future
This book aims to understand what just transition means for India, detailing the risks and opportunities of coal phase-out. It builds on an in-depth research of a top coal mining district of Jharkhand, where many coal mines are already closed. It also proposes what coal mining districts and governments should do to plan for a just transition.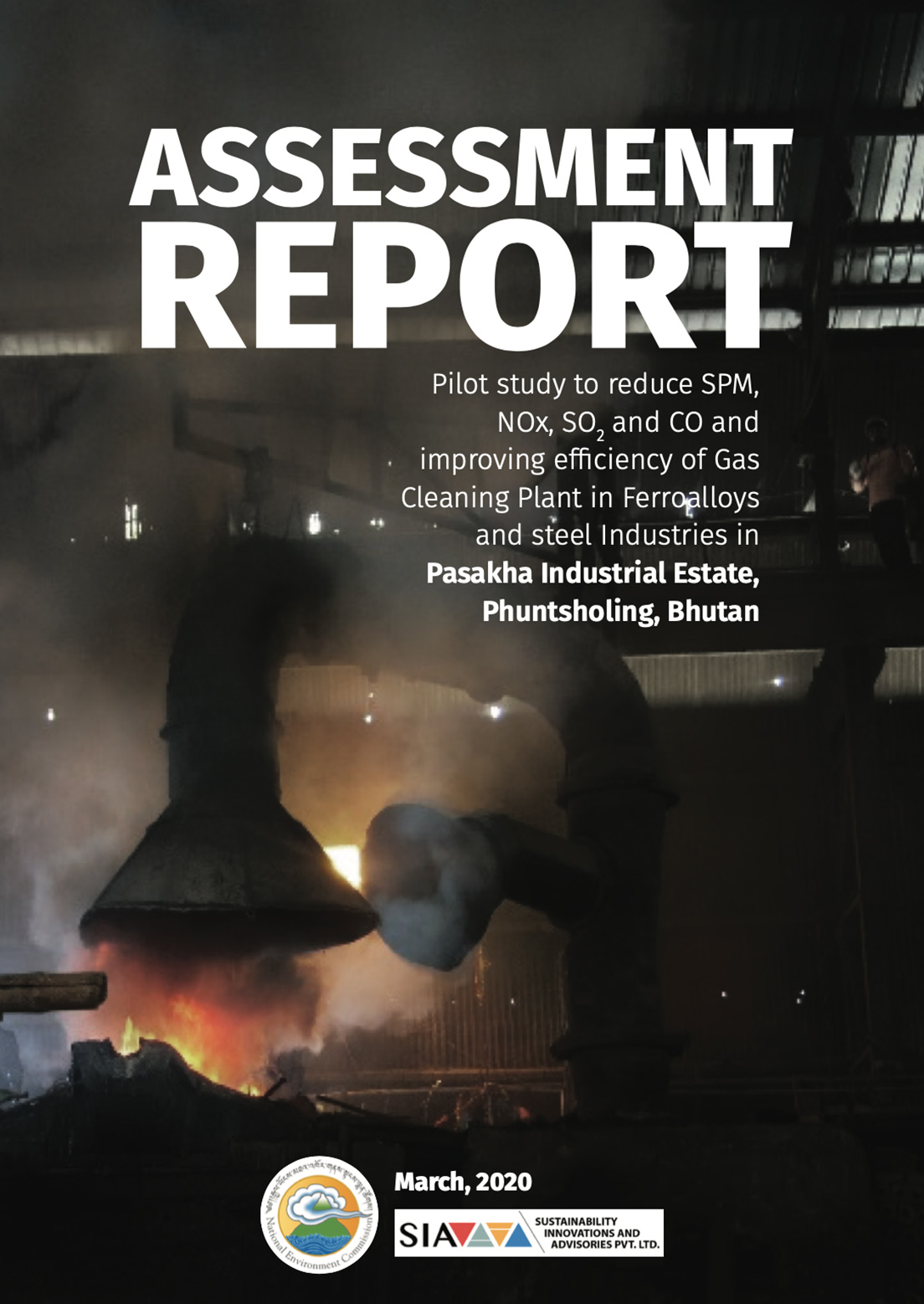 Assessment Report: Pasakha Industrial Estate, Phuntsholing, Bhutan
This pilot study was commissioned by the National Environment Commission Secretariat of Bhutan to identify the problems of industrial emission from Ferro, silicon and steel industry and suggest mitigation measures to reduce SPM, NOx, SO2 and CO emissions from these industries.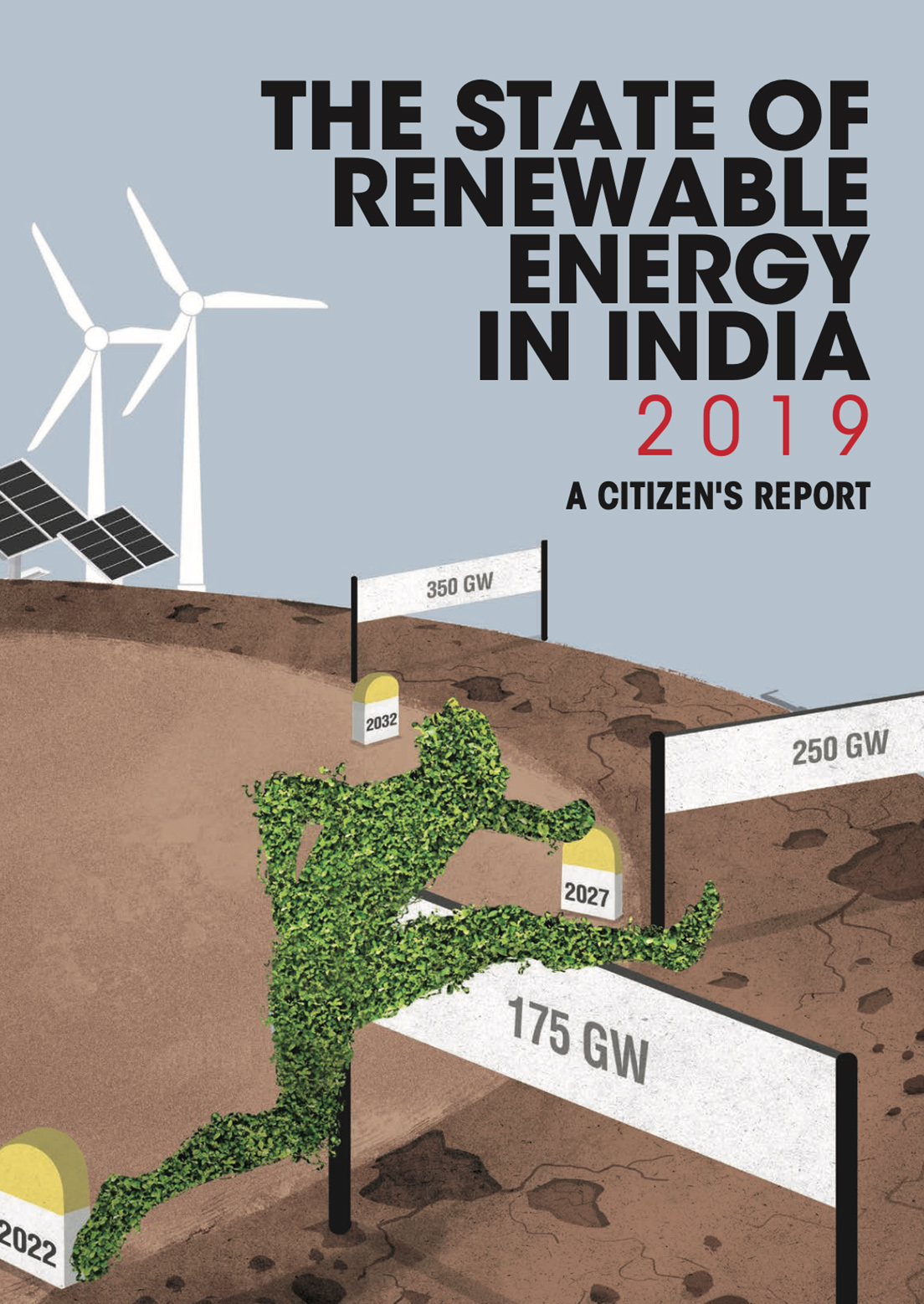 State of Renewable Energy in India: A Citizen's Report, 2019
The second Citizen's Report takes a close look at the strengths and challenges facing the RE sector, and whether the sector can overcome these obstacles and emerge as a viable alternative to conventional energy sources. The question that the report asks is: Can India chart a brave new world of 100 per cent renewable quickly and efficiently?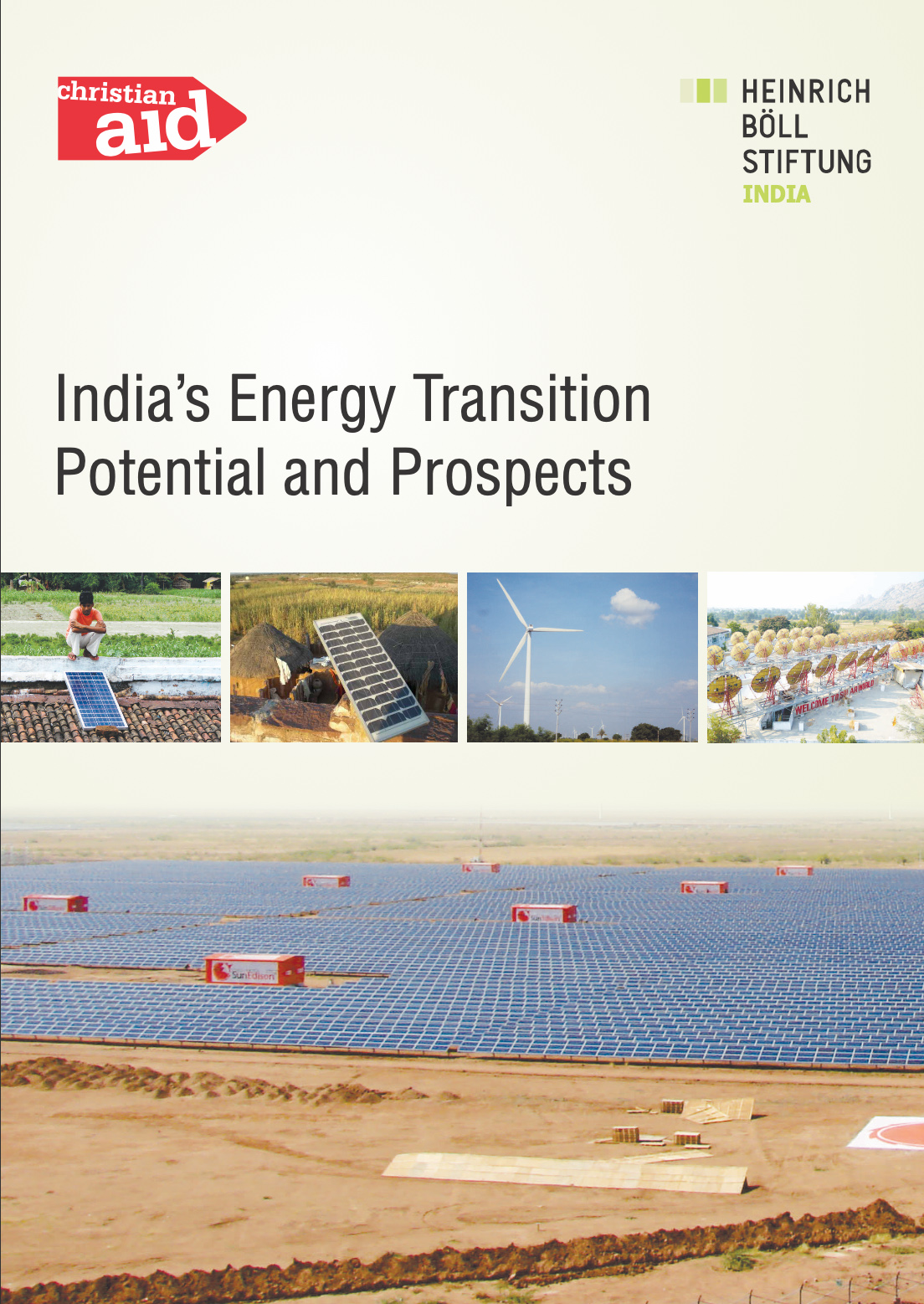 India's Energy Transition: Potential and Prospects
The analysis provided in this book encourages the reader to envisage the "brave new world" of an India that is powered by renewable energy to a large extent. The book provides ideas about what is needed to reach this new world, especially when it comes to the mobilization of finance, and with regard to reforming the distribution system and the grid itself.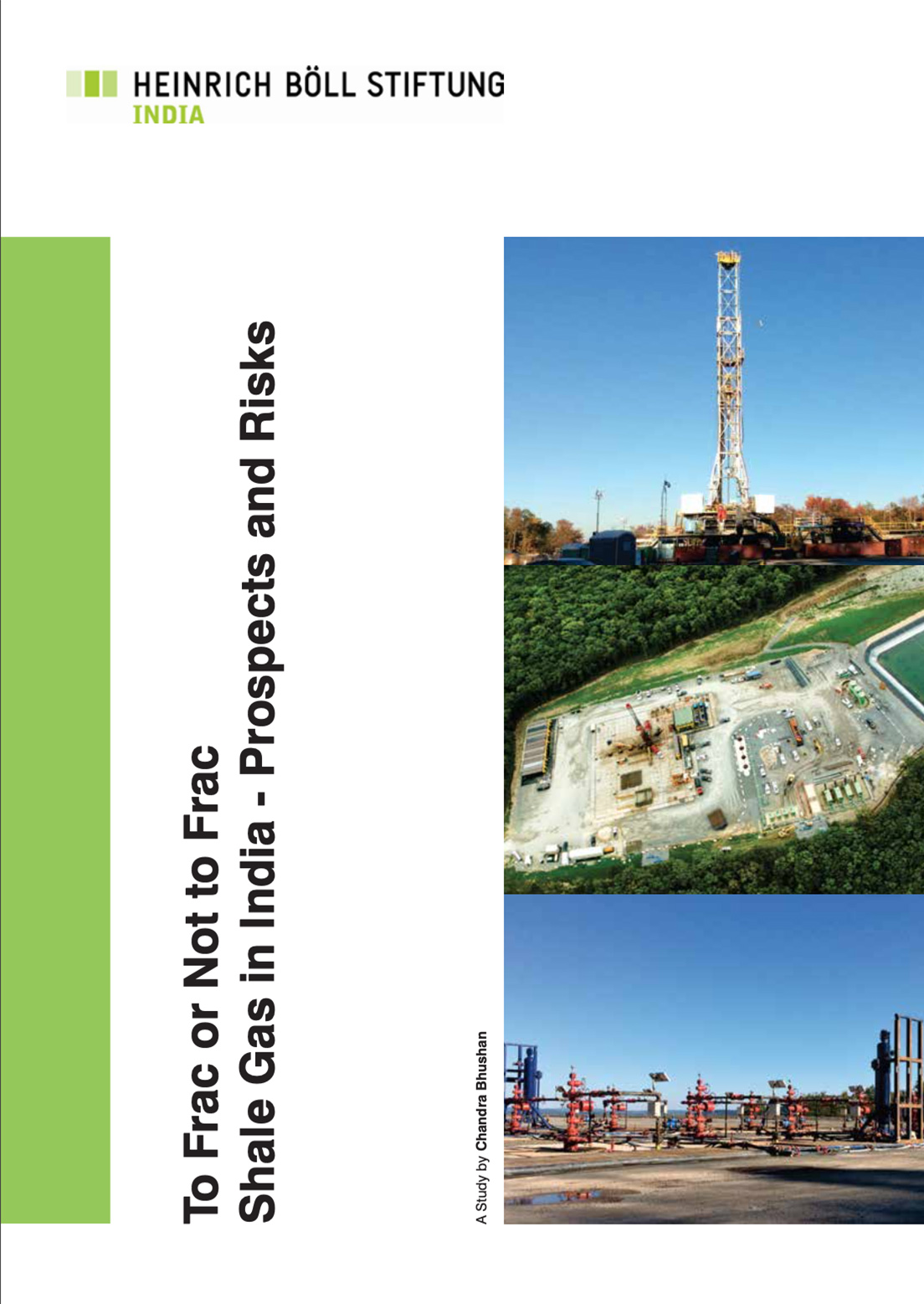 To Frac or Not to Frac: Shale Gas in India
This report analyses the experience of shale gas development in the U.S. and provides an overview of potential environmental and social impacts and risks that the large-scale exploitation of shale gas would entail in India.