This article originally appeared in The Times of India
Extreme rainfall contributes to severe flooding, but the bigger problem is the mismanagement of the stormwater system.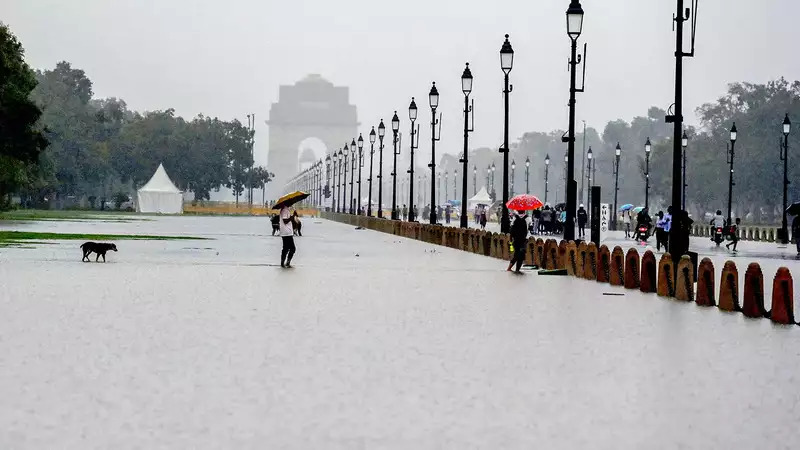 As the deluge subsides and the city dusts itself off, we find ourselves once more asking how we got here. Last weekend, Delhi witnessed over 100 mm of rainfall each day, leading to extensive waterlogging, road cave-ins, collapsed homes, and gridlocked traffic. As citizens struggled, Chief Minister Arvind Kejriwal quickly attributed the crisis to extreme rainfall, contending that the city's drainage system wasn't designed to handle such an "unprecedented" downpour. The Public Works Department (PWD) concurred, pointing out that Delhi's drainage network can carry a maximum of 50 mm of rainfall in 24 hours and is in dire need of major reconstruction. But are these assertions accurate? Is the issue of waterlogging solely a consequence of extreme rain and inadequate infrastructure, or are there other factors contributing to this annual predicament? It is vital to scrutinize these assertions lest they be accepted as unquestionable truth.
Let's consider the rainfall. Was the downpour on the 8th and 9th of July truly "unprecedented"? Rainfall data from the past 30 years reveals an increase in the frequency of heavy (64.5-115.5 mm of rain in 24 hours) and very heavy (115.6-204.4 mm) rainfall events in the city. In fact, in the last few years, there has been an upsurge in incidences of heavy rain. As we all have short memories, it is worth remembering that in 2021 Delhi had seven episodes of heavy and very heavy rains that caused similar levels of flooding. Moreover, the total rainfall in 2021 was 1512 mm — more than double the usual amount and the second highest on record. Hence, the most recent rains cannot truly be considered "unprecedented" for the city. Delhi has been experiencing them increasingly over the last decade, and these extreme rain events will continue due to global warming. The problem is despite this knowledge, the Delhi government has taken little action. Instead, it tells us now that the problem is the city's old, creaking drainage network. But is Delhi's drainage system so inadequate that it can handle only 50 mm of rainfall? Consequently, does Delhi need to rebuild its entire drainage network, given the increasing frequency of heavy rain?
To answer this question, I will refer to the most recent Drainage Master Plan (DMP) for the National Capital Territory of Delhi, prepared and submitted by IIT-Delhi in 2018. Despite being rejected by the Delhi government in 2021 as "non-actionable" and "too theoretical," this report is our most reliable source of recent information and modelling results. So, what does this report contain that led the state government to dismiss it?
First of all, contrary to the Delhi government's perspective, the DMP does not advocate for multi-crore mega-projects to construct a new drainage system for the city. Instead, it highlights mismanagement as the core issue and firmly recommends improvements in the existing drainage network to alleviate flooding. The main findings and recommendations of the DMP, which the Delhi government termed as theoretical, are as follows:
The rampant encroachment of stormwater drains has reduced the carrying capacity, and hence special drives should be initiated to remove them.
Authorities routinely dump sewage into storm drains, which heightens siltation. Additionally, residents often connect their rooftop drains to the sewage network due to a lack of local-level stormwater drains in the city. Prioritizing the construction of colony-level storm drains should help address this problem.
Serious efforts should be made to stop the rampant disposal of garbage, road dust and construction waste into storm drains.
A considerable amount is spent on pre-monsoon drain cleaning each year, yet no transparent verification system exists. A certification system should be implemented for the desilting exercise.
Utilities are often laid inside storm drains, and pillars for elevated roads/metros are built within them, severely reducing the drains' capacity. These constructions should be prohibited.
The city's drains are poorly designed, poorly aligned and badly constructed. Their efficiency can be significantly enhanced by improving the slope, alignment and cross-sections.
Many water bodies have become redundant and need to be rejuvenated to play a key role in flood reduction by acting as detention and recharge basins.
Rainwater harvesting in parks and open spaces will act as sponges and reduce flooding.
Delhi's drainage system is owned by 11 departments/agencies. About two-thirds of the drains are under the control of the state government, about 25% are with municipal corporations, and the remaining are with central government agencies such as Delhi Development Authority. Hence, one agency should be made responsible and accountable for the drains.
It's clear that DMP's recommended improvement can be made swiftly and inexpensively. While DMP didn't rule out the construction of new drainage systems to adapt to changing rainfall patterns, it advised that improvements should precede any new construction.
Despite being practical, actionable, and frankly common sense, these recommendations were rejected, ostensibly because they lacked "actionable" large-scale projects. Consequently, five years later, PWD has engaged a new consultant to develop a fresh DMP, which will take another year to compile, and who knows how many more years to implement. Until then, the citizens of Delhi should anticipate more excuses and empty promises while hoping for deliverance from the rain gods.
Chandra Bhushan is one of India's foremost public policy experts and the founder-CEO of International Forum for Environment, Sustainability & Technology (iFOREST).