In an exclusive conversation with iFOREST, the Chief Minister of Jharkhand, Shri Hemant Soren, talks about the role of coal in Jharkhand's economy, and the need to develop other economic sectors to transition to a non-coal economy.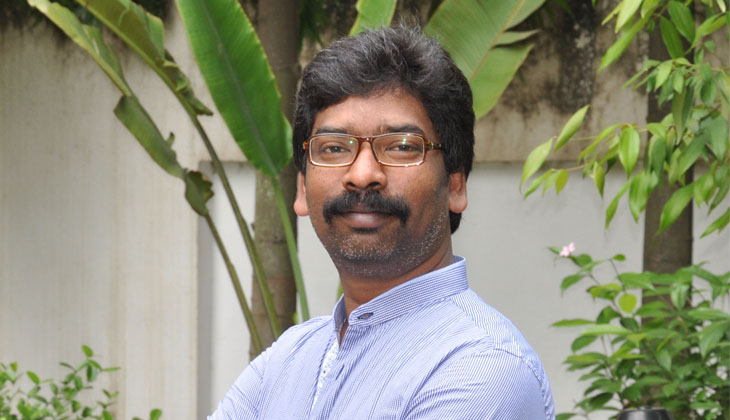 Q. 1 How important is coal for Jharkhand in the present day?
Jharkhand is one of the few states in the country that is blessed with rich mineral wealth. The state contributes to 32% coal reserves in India. Although, coal has always been an important resource for revenue generation for the state. But the state has not attracted investments worthy of its endowments.
Additionally, lakhs of tribal and indigenous people have been displaced from their lands without proper rehabilitation benefits. It is therefore an irony that Jharkhand illuminates the country with its coal but is forced to live in darkness. Coal is important to Jharkhand but not at the cost of huge societal and environmental loss.
Q2. Is Jharkhand benefiting from coal as expected?
The abundance of mineral wealth has been a resource curse for Jharkhand. The state contributes to 32% coal reserves in India. However, the benefits accrued to the state aren't in the same proportion and we lose more than we gain. There's DMF which allows some developmental activities in the mining affected regions and communities, but its functioning needs to be streamline.
Q3. Under what conditions do you want to increase coal production in the state?
With the increase in coal production, state revenue will also increase. However, our government is determined to safeguard the interests and rights of people and state. The Union Government has opened up auctions for commercial mining within the coal sector. The auction area also includes Jharkhand. However, I had requested the central government to provide a moratorium of 6-9 months. In this regard, I had written a letter to Hon'ble Minister of Coal, Mines & Parliamentary Affairs, Government of India requesting that due to COVID-19 pandemic, many domestic/foreign players might not participate in the auction process due to travel restrictions and several enterprises facing financial liquidity crunch.
My government also wants to ensure that steps taken for sustainable mineral development are in harmony with prevalent social and environmental practices and the adverse costs on tribal populace and the ecologically fragile zones do not outweigh the benefits that we might get economically.
Q4. What do you think are the challenges of coal mining in environmental and social terms? How is the Jharkhand government planning to offset or deal with these?
Over all these years, Jharkhand has been forced to drink 'laal-paani' and 'kaala-paani' due to mining activities. Many people were forced to leave their land. Those left behind were exposed to severe diseases and complications. As a result, much more deliberations are required with various stakeholders for creating a conducive policy framework. Thus, it is vital that a balance is struck between societal expectations, environmental preservation and economic growth.
Q5. The Intergovernmental Panel on Climate Change (IPCC) report has spoken about phasing out coal for climate change concerns. Do you think Jharkhand can transition to solar and wind energy from coal? If yes, how long do you think this transition will take? If no, what are the alternatives?
Climate change related issues are increasing at an alarming rate. Due to the erratic changes in climatic conditions, it is mostly those at the margins who are most affected. Therefore, switching to renewable energy resources becomes essential. My government is committed to exploring alternate energy resources, especially solar energy for both electrification, saving unforeseen costs of conventional sources and also for facilitating micro irrigation to farmers and farmers collectives.
Q6. A new concept called Just Transition in coal mining areas has been emerging. The basic idea is that local communities in coal mining areas/ coal districts should not become the victims of coal phase-out in the next 20/30 years as the IPCC report says. Therefore, it says that economic opportunities should be created for mining dependent communities in these areas. Given this, is the Jharkhand government open to developing a Just Transition plan in coal mining areas? If yes, what should be the major components of the just transition plan?
I have not heard much about the Just Transition concept. But my government welcomes any concept that provides equity to people and other stakeholders affected from coal mining, directly or indirectly in districts and zones affected by mining.
Q7. A key component for transition towards a non-coal economy will be diversification of economic opportunities. What are some of the economic sectors in the state with growth opportunities that can substitute for the revenue and employment that the coal industry currently provides?
Jharkhand is rich in minerals. But it has also been endowed with rich and diversified natural resources across the state. Tourism is one of the sectors which has been left untapped until now. We have so many states in India which generate revenue by focusing solely on Tourism. Not only does it create revenue but also promotes conservation and sustainable use of natural resources. Although post COVID 19 recovery will take time, we are focused to create a nature-based tourism plan to attract citizens across the country towards natural beauty and alternative indigenous living practices, prevalent in the state.
The other is NTFP (Non-Timber Forest Produce) based economy in Jharkhand. The NTFP based economy has never been given due attention until now. My government is working on strengthening the overall structure of NTFP based backward and forward linkages. I believe that with due policy in place – not only the tribals and forest dwellers will get a decent income but it will also accentuate sustainable use of natural resources. Jharkhand also has great potential for renewable energy, pharmaceuticals, textile and other rural based industrialization initiatives. We are also going to soon start a process to map out specific enterprises/ industrial units that could be promoted/ developed to boost our rural economy and economic resilience.
Q8. Which social security measures should the government prioritize to facilitate a well-planned transition? What can be the main revenue sources for it?
We have been committed to ensure social inclusion in all our programmes in this brief 6 month period. We will also soon launch the Urban Wage Guarantee Initiative, a first in its country and want to understand how a safety net for intra-state workers could be created in urban and peri-urban areas through state commissioned public works. Jharkhand is blessed with an industrious labour force. Our government prioritizes keeping welfare and pride of the labour force and other people intact. Keeping this as our priority, we promoted direct engagement with the Border Roads Organization (BRO) when they had approached Jharkhand for labour force. Our government is working on developing a plan and policy measure to ensure the rights and welfare of the people of Jharkhand especially towards responsible business practices and establishing an aspirational and responsible migration pattern in the future, contrary to the distress migration that has been practiced.
Q9. What is your opinion about the political momentum / or support for transiting to non-coal economy in the mining districts? How do you think a favorable political will can be built?
Jharkhand Mukti Morcha (JMM) has always fought for the rights of people of Jharkhand. We always support less extractive and more equitable platform for our state. Our coalition government and JMM welcome any opportunity to promote equitable opportunities for both industries and people.
Q10. What do you think that can be done to build a multi-stakeholder consensus and engagement for a transition?
Multi-stakeholder consensus cannot be attained unless there is democratisation of processes. We have the political will to do that and will deliberate more once the larger socio-economic picture is clearer. We also need time – I spent 4 months tackling COVID-19 and it has been a learning time. There are several plans but definitely they will be laid in the times to come.
A public policy professional, Srestha's core interest lies in improving environment and resource governance, and securing community rights through an interface of strong research and advocacy. She is currently leading natural resource management and climate justice work at iFOREST.