Report Release & Conference – Decommissioning TPPs in India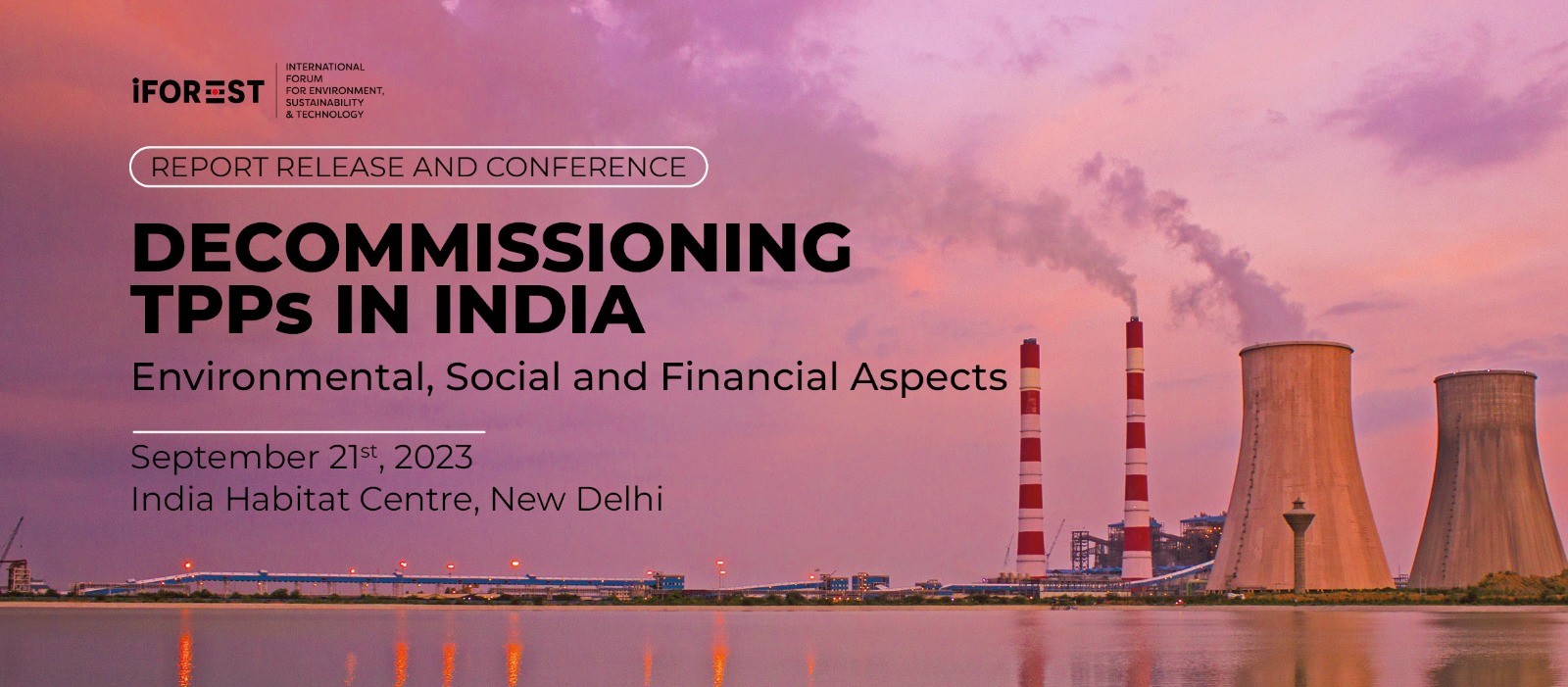 The International Forum for Environment, Sustainability and Technology (iFOREST) held a report release and conference on 'Decommissioning of TPPs in India: Environmental, Social and Financial Aspects' on the 21st of September, 2023.
In India, coal-based power generation units have been routinely retired at the end of their useful life. However, instances of old units being retired and not replaced with new units are increasing. In this scenario, adequate measures are required to mitigate the barriers to proper decommissioning and to ensure adequate end-of-life management. In the absence of clear guidance on crucial environmental, financial, and social aspects, there is an increased risk of retired units being abandoned, hindering remediation and redevelopment.
In this context, the focus of the conference was to discuss the experience of generation companies with TPP decommissioning, the environmental and social aspects of decommissioning, and the possible funding mechanisms to pay for end-of-life activities.
iFOREST also released two research reports titled:
Financing the Decommissioning of Thermal Power Plants in India: Modes and Mechanisms
Environmental Considerations in Decommissioning Retired Thermal Power Plants
There was participation from various relevant stakeholders such as CERC, NTPC Limited, Prayas (Energy Group), World Bank, CPCB, DPCC, NLC India Limited, MAHAGENCO, IEA, Bhartiya Mazdoor Sangh and INTUC who contributed to the discussions surrounding the challenges and possible solutions for decommissioning a TPP.
The discussions concluded:
➡ The issue of decommissioning a TPP is very complex and entails multiple concerns. Hence, India will need to develop a strong regulatory and institutional framework which brings key decision-makers such as industry, government, and labour unions under one umbrella to support all aspects discussed.
➡ As India will face large-scale retirement of coal-based units only after 1-2 decades, with the impact of old units retiring already being seen, India has an opportunity to learn from best global practices and plan ahead.