Odisha Energy Transition Workshop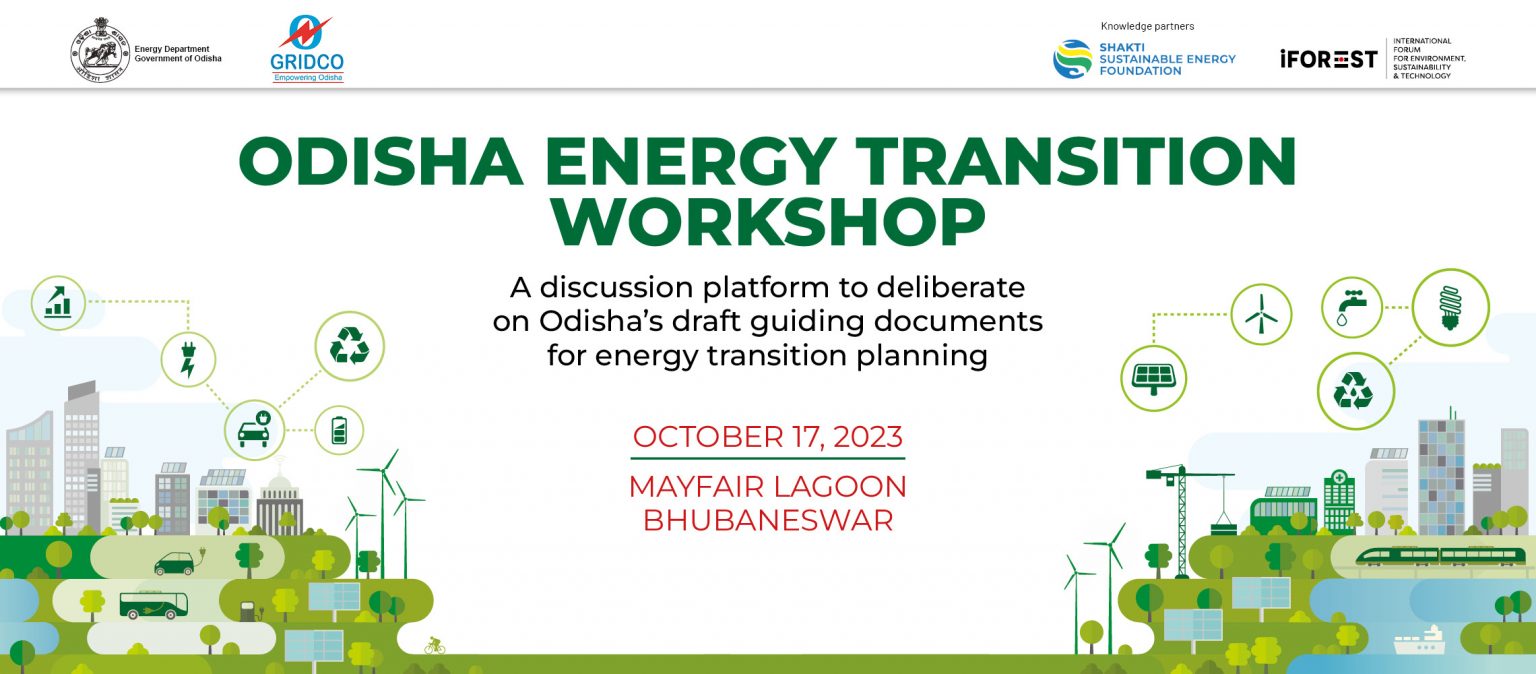 The International Forum for Environment, Sustainability & Technology (iFOREST) co-organized and supported 'Odisha Energy Transition Workshop' in Bhubaneswar on 17th of October, 2023 along with GRIDCO Limited and Shakti Sustainable Energy Foundation, with the guidance of the Energy Department of Odisha. The workshop was designed as a platform for sector experts and industry leaders to deliberate on the guiding document developed by the state for its energy transition planning.  
The workshop was inaugurated by Sh. Pradeep Kumar Jena, IAS, Chief Secretary, Govt. of Odisha, where he hoped that it would provide a crucial platform for the stakeholders to strategize and collaborate with each other to advance Odisha's Energy Transition Plan. 
The opening remarks in the workshop came from Sh. Nikunja B. Dhal, IAS, Addl. Chief Secretary, Energy Dept., Govt. of Odisha, followed by special addresses from Sh. Dinesh Jagdale, Joint Secretary, MNRE and Ms. Wendy Jo Werner, Country Head (India), IFC.  
Across the six sectoral sessions, senior representatives from GIZ India, IITs, Waaree Energies, Greenko Group, CEEW, PwC, WRI India, OMI Foundation, NALCO, IPICOL, CII, UNEP India, SwitchOn Foundation, SELCO India, and GEAPP contributed to the deliberations by highlighting Odisha's significance in the context of India's mission to achieve 500 GW of renewable energy capacity by 2023.  
The deliberations concluded: 
➡ Capacity building, infrastructure development, implementation and inter-departmental coordination are fundamental to planning and executing Odisha's energy transition.  
➡ It is important to prioritize within the sectoral plans, based on a detailed resource assessment and economic analysis. 
➡ Breaking down the transition plan in terms of executable steps for line departments is vital for execution.  
➡ Developing anchor institutions for each vertical or one for overall state coordination is also crucial.  
➡ All sessions also had a common underlined discussion around just transition, and an opportunity to build growth avenues.