Odisha Wind Energy Summit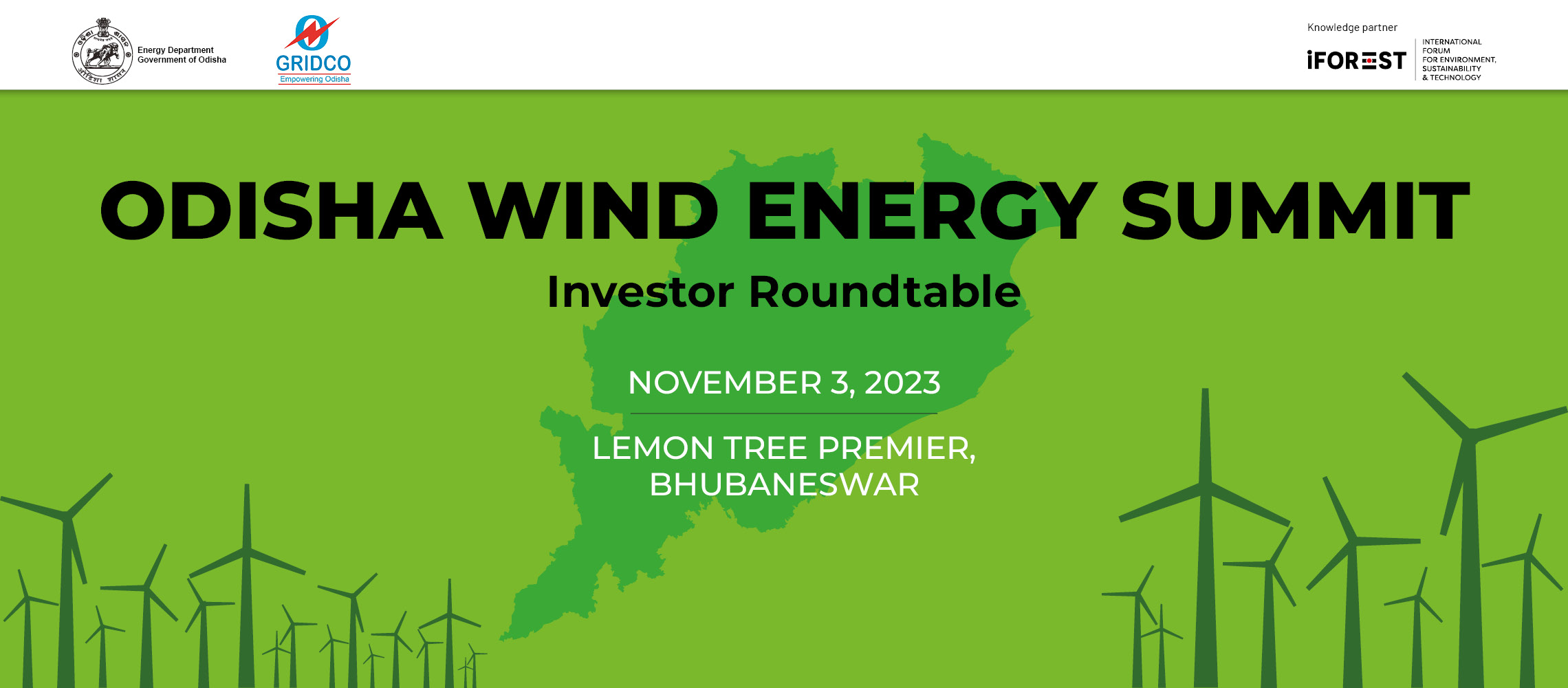 The International Forum for Environment, Sustainability and Technology (iFOREST) and GRIDCO Limited co-organized and supported the 'Odisha Wind Energy Summit – Investor Roundtable' in Bhubaneswar on November 3rd, 2023, with the guidance of the Energy Department, Government of Odisha (GoO).
The event was designed to explore investment opportunities in the wind power sector in the state and saw participation from 25 independent power producers and turbine manufacturers. Participating companies included NTPC, SJVNL, NALCO, ReNew Power, O2 Power, Amp Energy, ACME, Suzlon, Hero Future Energies, IWTMA, WIPPA, among others.
The workshop featured keynote addresses by Sh. Pradeep Kumar Jena, Chief Secretary, GoO ; Sh. Dinesh Dayanand Jagdale, Joint Secretary, Ministry of New and Renewable Energy, Government of India; Sh. Vishal Kumar Dev, Principal Secretary, Finance & Energy, GoO; Sh. Bhupendra Singh Poonia, MD, IDCO & IPICOL; and Dr. Rajesh Katyal, Director General, National Institute of Wind Energy . The workshop was followed by one-to-one meetings between prospective investors among the participants, and senior officials of the GoO and GRIDCO Limited.
Key highlights of the event:
➡ OREP, 2022 identifies a requirement of 3.7 GW wind capacity addition by 2030 in order to meet the new RPO requirement, and provides a number of incentives to support investments within the state, including a provision for feed-in-tariff for 500 MW of capacity.
➡ NIWE identifies the wind potential to be 12 GW at 150 m above ground level, however independent studies estimate the potential to be much higher.
➡ Ground-level assessment of wind data is curial. NIWE has identified four sites for wind farm development – at Damanjodi, Puri, Paradwip and Paradeep – whose potential needs to be confirmed by on-ground data.
➡ Initial assessment indicates that the risk of cyclones is low for majority of the high wind speed sites, and it can be addressed with technology.
➡ An investment proposal of Rs. 49.4 billion, corresponding to 575 MW of wind energy capacity, was assured by different investors to the GoO.