Legal Assessment for a Just Transition of Coal Power Plants in India
12 October, 2022 | 04:00 to 06:00 PM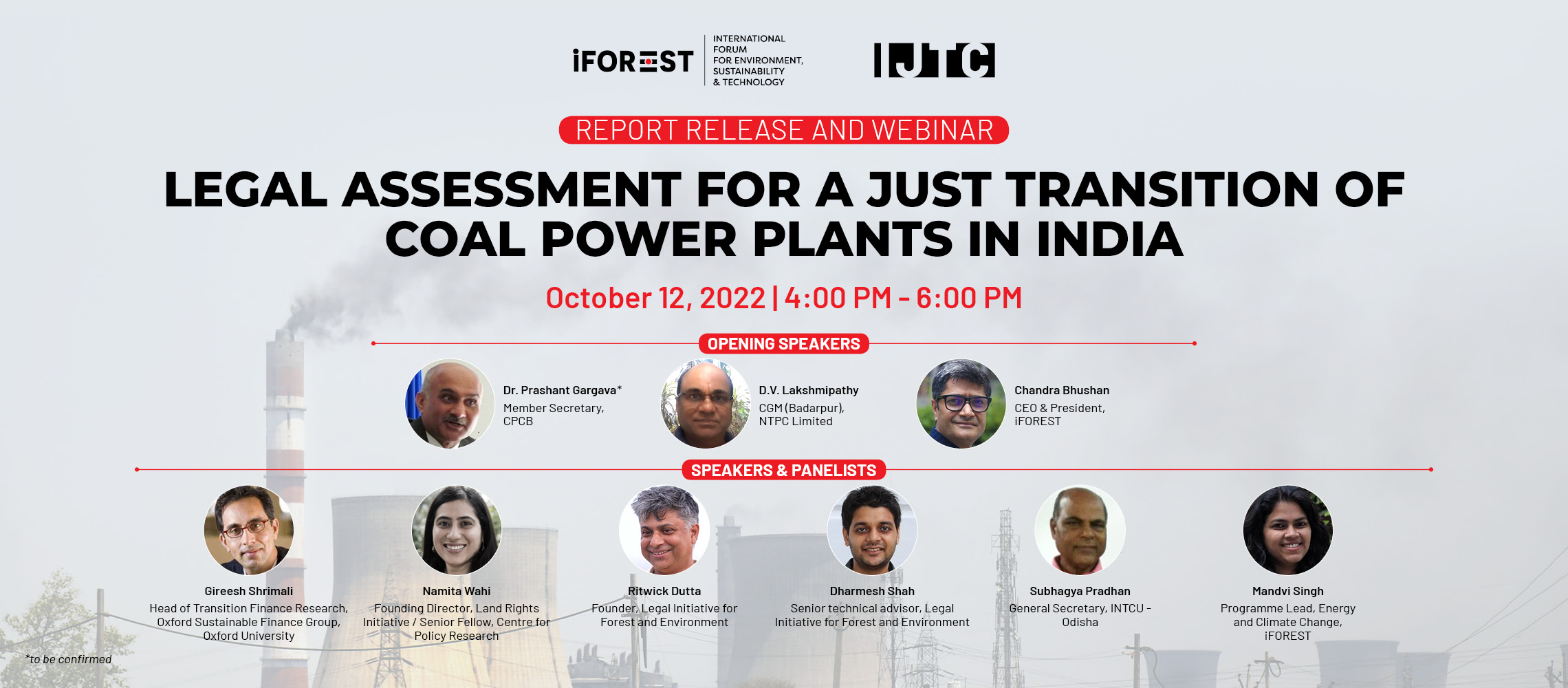 The International Forum for Environment, Sustainability and Technology (iFOREST) released its latest report that assesses the adequacy of existing environmental, land and labour laws in India to deal with the decommissioning of a coal-based thermal power plant (TPP) and other industries. Titled 'Just Transition of coal-based power plants in India: A policy and regulatory review', the report was released at a webinar attended by representatives from pollution control boards, the thermal power industry, labour unions, researchers and NGOs. 
India's coal fleet is fast ageing. About one-fifth of the current capacity is primed for decommissioning as their average age is more than 35 years. If the Ministry of Power's advisory to retire coal-based generation units of more than 25 years old is implemented, then as much as 50-60 GW capacity will retire in the coming ten years. But is India prepared to decommission such large capacities under a just transition framework, ensuring fair and inclusive outcomes for the environment, labour and community?
The report finds that there are no laws in India that mandate decommissioning, remediation and repurposing of a coal TPP after its retirement. A power plant site can remain 'as-it-is', as there are no laws that can force a plant owner to dismantle the plant, clean up the site and set up a new facility. Unlike the coal mining sector, power plants and industries are not required to prepare decommissioning plans. The existing laws and regulations related to the environment, labour, land and finance are either ambiguous or are silent on decommissioning, leaving enough space for nonstandard approaches. 
Key findings of the report are:
Environment: Current environmental statutes do not mandate a time-bound clean-up and remediation of the site after retirement. For example, the EIA notification and the Water and Act are silent on decommissioning. There is an opportunity to modify existing laws or enact a new law that mandates, guides and simplifies decommissioning.
Land: Land for power plant construction has mainly been acquired through the Land Acquisition Acts, which are silent on the requirement for remediation and redevelopment at the time of decommissioning. There is no guidance or formal mechanism at the central or state level to decide on repurposing/redevelopment. 
Labour: Existing labour laws and upcoming Codes are not designed for dealing with large-scale closure of industrial facilities. The compensation and social security mechanisms are weak and inadequate, especially for the large informal and contract workforce employed in the sector. For large-scale decommissioning, a legal framework that enables peaceful and systematic closure is essential.
Financing: Decommissioning cost is not explicitly considered in financial calculations or liability disclosures. Presently, the salvage value from the sale of scraps is assumed to be sufficient to enable decommissioning. However, experience from India and abroad shows that it might not be adequate. If decommissioning and repurposing are financially unviable, plant owners will likely leave the plant 'as-it-is'.
Video Recording of the Event